How to choose this product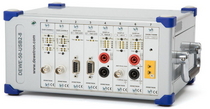 A data acquisition system is an electronic ensemble for the acquisition, storage and delivery of measurement data.
Applications
These systems are used in laboratories, on test benches and for all types of industrial measurement. They analyze vibrations and monitor chemical reactions by measuring temperature and pressure, as well as being integral to other industrial processes.
Technologies
Such systems have channels for sampling analog signals. Inputs can be single-ended, isolated or differential. Dedicated inputs are connected to sensors functioning without external signal conditioning. Modular systems can be adapted to specific measurement needs. Certain versions can be synchronized in a cascade arrangement to increase the number of channels.

Acquisition channels are characterized by speed in number of samples per second and conversion resolution in bits. Real-time calculations facilitate data treatment and the activation of other measurements during transitory events. Incorporation of a battery ensures stand-alone operational autonomy. Remote data reading, parameter setting and overall control are possible with networked systems.
How to choose
Choice will depend on the types of measurements to be made, number of channels, acquisition speed and resolution and the extent of memory.