How to choose this product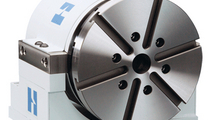 Direct drive rotary tables are machine tool accessories used for workpiece positioning. The lack of mechanical rotational gearing enables them to operate at high speeds.
Applications
Such devices are used in the aerospace and medical industries for parts manufacturing requiring high precision. They are suitable for milling, drilling, tapping and laser processing.
Technologies
The direct drive rotary tables have a relatively simple design consisting of a torque motor, encoder, spindle, bearing and housing. There is no worm gear or mechanical gearing, eliminating wear and backlash error. The spindle nose can hold either a slotted face place or standard 5C tooling.
How to choose
When selecting a direct drive rotary table be sure to specify characteristics such as: rotary speed (RPM), torque (Nm), table diameter and accuracy (in arseconds).
Advantages
- High speed
- No backlash
- Accuracy