How to choose this product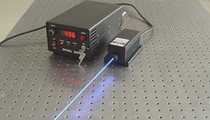 The DPSS (diode-pumped solid-state) laser uses a crystal gain medium optically pumped by a laser diode.
Applications
DPSS lasers are common throughout industry. Offering compactness and high output power, they are used for ablation, marking and cutting.
Technologies
DPSS lasers use a laser diode, usually infrared, to pump a crystal which emits a laser beam of different wavelength. A non-linear crystal then doubles its frequency, dividing the beam's wavelength in half. This yields a green, blue or yellow emission.
How to choose
Choice of DPSS laser will depend on specific use. The laser diode pumping method is predetermined. The gain medium establishes wavelength and power range. Deposited power will depend on operating mode, pulsed or continuous.
Advantages
- Compact
- Efficient
- High-quality beam
Disadvantages
- Temperature-sensitive
- Possible efficiency loss