How to choose this product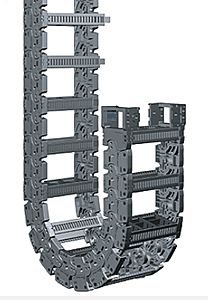 Drag chains are used in industry to guide and protect moving cables and hoses from excessive wear while keeping the assembly compact. Some manufacturers call them cable carriers or energy chains.
Applications
Drag chains are used in automation applications to properly guide cables to moving machinery. They are common in industrial robots where the cables need guiding in several different axes. Forklift trucks use them to protect both hydraulic and electric cables as the forks move up and down.
Technologies
Polypropylene is the most common type of material used for drag chain construction today, while steel is still used for certain applications. Manufacture may differ in order to produce chains suitable for use in particular environments (indoors, outdoors, exposure to chemicals or extreme temperatures) or with certain characteristics (low-noise, waterproof).
How to choose
Be sure to determine the size, length and the number of cables or tubes to be protected when selecting a drag chain.
Advantages
- Cable protection
- Flexibility
- Modular