How to choose this product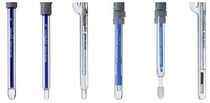 An electrode usually is a device for measuring electrochemical parameters, such as pH, redox potential or ionic concentration. Other types include those used in arc welding, soldering or grounding.
Applications
Glass and reference electrodes measure the pH of organic substances, or of biological or biochemical samples. Arc welding electrodes are used to join steel, stainless steel, iron or cast iron elements.
Technologies
Measuring pH involves a glass electrode and a standard electrode, usually immersed in a saturated calomel solution. This creates a galvanic cell whose generated voltage is used to calculate pH. An ion-selective electrode uses the same principle to measure the concentration of a specific ion. An ORP electrode measures oxidation reduction potential.

Arc welding electrodes have a core (steel or an alloy of copper, nickel or chromium) coated with a flux material. The electric arc melts the core material and deposits it at the weld point. The coating is a complex mixture which helps create the arc, strips the surface for proper flux deposit and protects the weld area from oxidation.
How to choose
Electrochemical electrodes are characterized by the nature of the constituent glass or metal and that of the electrolytes employed. Welding rods differ by core material.