How to choose this product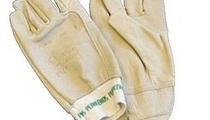 Gloves are a piece of safety equipment used to cover and protect the hands.
Applications
Industrial applications for gloves are extremely varied: material handling, protection against temperature extremes, dielectric materials, chemicals, cuts and other dangers.
Technologies
Glove material varies with the envisioned type of work: thick-leather gloves for material handling, thick-fabric or Kevlar gloves for labor in hot environments, latex, PVC and nitrile gloves for labs and chemical industries, metal-scale or mail gloves to avoid cuts, among others.
How to choose
Gloves must be chosen as a function of the materials to be handled and the work environment. Comfort and certification for the intended application are also important.
Advantages
- Protection
- Comfort