How to choose this product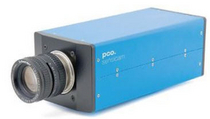 A high-resolution camera has an image sensor with several million pixels, producing video images showing fine detail.
Applications
High-resolution cameras are often used in video surveillance. Their megapixel sensor allows zooming while conserving sufficient detail. They are also becoming more common in industrial settings for reading labels, optical bar code scanning, quality control and similar tasks.
Technologies
Image sensor resolution depends on the number of pixels. Increasingly precise microelectronic etching techniques have yielded CCD and CMOS sensors with nearly 12 million pixels within several square centimeters.
Advantages
- Pixel size
- High spatial resolution
Disadvantages
- Image size