The Online Industrial Exhibition

security cabinet
595 x 745 x 2 080 mm | CLASSIC ML
Width: 595 mm
Height: 2,080 mm
Depth: 745 mm
Safety cabinet with wing door. Outer carcass: 595 x 745 x 2080 (WxDxH) mm, Inner carcass: 499 x 595 x 1830 (WxDxH) mm, Wing door hung right Outer carcass, sheet steel, powder-coated in RAL ...
See the other products
Dueperthal Sicherheitstechnik

storage cabinet
IP55, IK08 - IK10 | SF
Width: 600, 800 mm
Height: 1,200, 2,000, 2,200 mm
Depth: 600, 800, 1,000 mm
... 1000 kg distributed in its volume ! Material Structure: top and bottom frames and 4 galvanised-steel vertical uprights with a thickness of 1.5 mm. Door: sheet steel with a thickness of 1.8 mm. Coating: ...
See the other products
HIMEL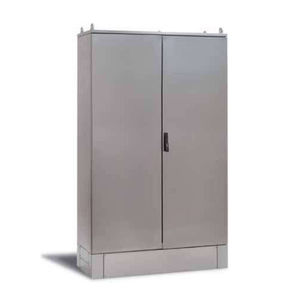 compact cabinet
SCS series
Width: 600 mm - 1,600 mm
Height: 2,000, 1,800, 1,600, 1,400, 1,200 mm
Depth: 400, 500 mm
The integrated compact cabinets STEEL with solid door, SCS series, is a benchmark on the market today.The bases for the design were those to create a better product with a higher performance, ...
See the other products
MPGAMMA srl

Width: 100 mm - 600 mm
Height: 10 mm - 2,057 mm
Depth: 100 mm - 1,060 mm
... Compact width to optimize data center space. 42U height to easily roll through... Includes: Baying hardware, Doors, Key(s), Keyed-alike doors and side panels, Leveling feet, Mounting hardware, Pre-installed ...

Width: 550 mm - 800 mm
Height: 1,000 mm - 2,000 mm
... quality storage cabinets made from powder-coated steel provide storage suitable for industrial and technical environments. A wide range of accessories helps easily adapt the cabinets according to storage ...

storage cabinet
PSM 500-1000
Width: 500 mm
Height: 100 mm
Depth: 500 mm
... steel Powder-coated in RAL 6011 - reseda green Doors reinforced, with handle cylinder lock Height-adjustable storage levels Ventilation slots in the doors Cabinets 1000 mm height with ...
See the other products
LaCont Umwelttechnik GmbH

Width: 112 cm
Height: 228 cm
Depth: 122 cm
​ETS-Lindgren's Single Wall Screening Booths are acoustic booths ideal for screening environments where a fixed booth is desired, the ambient conditions dictate increased attenuation, or clinical testing may be required. The RE-140 and ...

switching cabinet
FREE CAB DW
The outdoor cabinet FREE-CAB-DW is designed to meet all customer demands. The FREE- CAB-DW is a cabinet that can safely accommodate any communication, information or switching equipment outdoors. The ...
See the other products
LUKA GmbH

storage cabinet
FOO 1304 63
Width: 700 mm
Height: 980 mm
Depth: 710 mm
... ball-bearing runners which pull out fully. Its hinged front door is fitted with storage compartments. Product specifications and fittings Heavy-duty 9 mm birch plywood with Black Hexagonal Pattern ...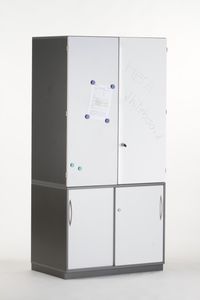 Our cabinet program bases on elaborate modular elements, which could be configured in various set-ups. So you can choose from regular cabinets with top-mount cabinet, wing doors ...

See the other products
Mirsan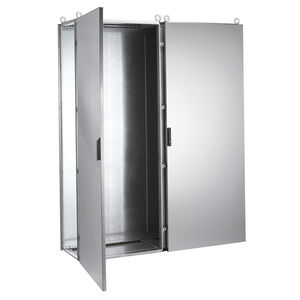 Width: 400, 600, 800, 1,000, 1,200 mm
Height: 1,800, 2,000 mm
Depth: 411, 511, 611 mm
... 1,5 mm (0.06") Door: solid Door fixing: hinges Door opening: 120° Frame: reinforcement frame for the following widths: 600/800/1000/1200 mm (23.62"/31.50"/39.37"/47.24") Back panel: ...
See the other products
Irinox S.p.A.

Width: 1,420 mm
Height: 1,685 mm
Depth: 1,080 mm
The Compact Drum Storage Cabinet SAFE Master® serves as a storage for smaller volumes of hazardous material. It is manufactured out of galvanized trapezoidal sheet metal materials. An easy transportation through its 100 ...

storage cabinet
VD3 series
Width: 300 mm
Height: 1,800 mm
Depth: 500 mm
... holder on doors. * Ventilation on top and bottom sides of doors and back side. * Hidden hinges with 120º opening doors can not pull out in opened and closed position. * Doors ...
See the other products
UDA MAKINA VE KLIMA SANAYI ve Ticaret A.Ş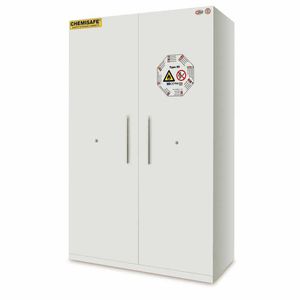 storage cabinet
CSF239BACMY11, CSF232BACMY11
Width: 595, 1,200 mm
Height: 1,950 mm
Depth: 600 mm
... and corrosive vapours. Certification as from EN 14470-1 and 14727 norms. • Automatic door closure in case the ambient temperature exceeds 47 °C. • Lock with key and door blockage. • Feet adjustment level. • ...
See the other products
Chemisafe

storage cabinet
217 - 1 180 l | VEA series
Width: 880, 1,380, 1,340, 2,720 mm
Height: 1,550 mm - 2,330 mm
Depth: 860 mm - 1,710 mm
The cabinet is made up of hinged door, lockable cover with hydraulic piston and handle. Slots for the aeration, in the sides.

workshop cabinet
2 000 x 530 x 500 mm
Width: 1,000 mm
Height: 2,000 mm
Depth: 500 mm
... there is need to store toxic products that are used in agriculture. It has thickness of 12/10 mm. The container comes with a door with locks on three points. It is painted in powder and offers resistance against disinfection ...

CONTROL CABINETS Most heating units are supplied by us together wit a total control system. To ensure complete compatibility and optimal design the complete manufacturing of both heating unit and control system is preferable. ...

Width: 960 mm
Height: 1,570 mm
polygonal shape to guarantee the highest use of space compact frame with useful and wide doors for tool easy access With doors closed, tools are protected from dust and dirt central shaft guide with ...

protective cabinet
Robust Series
... every place where it's necessary. Structure : Extruded aluminum profile construction Double skin aluminum doors and panels provide natural ventilation system and isolation IP55 Protected ...
See the other products
GURSAS ELEKTRONIK

Width: 720 mm
Height: 1,310 mm
Depth: 740 mm

Width: 500 mm - 3,800 mm
Height: 850 mm
Depth: 600 mm - 800 mm
Made entirely of stainless steel grade 1.4301 (AISI 304) Surface polished Stable, self-supporting construction Worktop made of 2.0-mm-thick sheet steel, edge-reinforced Worktop with upward lip of 40 mm at the rear, ...

Height: 1,400 mm
Depth: 600 mm
Top part with hinged door with shock absorber on top. Central part with double door DIN left or right and welded intermediate shelves in interior. The bottom part has 2 compartments with ...
See the other products
Eberhardt GmbH

Width: 1,000, 1,020 mm
Height: 2,045 mm
Depth: 440, 600 mm
This multi-purpose cabinet, with a dimension of 1,020 x 600 x 2,045, is a storage for standard and comprehensive training materials. It consists of 4 shelves on one of its side and 8 drawers on both sides. The cabinet ...

network cabinet
Arion 800W series
Height: 1,299 mm - 2,188 mm
Depth: 800, 1,000, 1,200 mm
The Arion 800 series of 19" cabinets are highly versatile and vendor neutral 19" Cabinet designed for networking and structured cable installations, for IT and Data Center applications. Our HD top version ...
See the other products
Cheval Electronic Enclosure