How to choose this product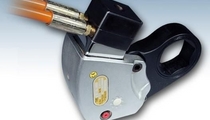 A hydraulic wrench is a torque wrench for tightening or loosening bolts. Versions include those with square or hexagonal drives, and other types.
Applications
These devices are found in mechanical engineering, manufacturing and assembly plants, on construction sites and in other venues.
Technologies
Such wrenches are often made of steel or aluminum. Adjusting the output pressure of the hydraulic pump determines the applied torque. The more common of the two systems uses a pivoting ratchet. The other is based on a spring inserted between the head of the bolt and the lever arm.
How to choose
Choice will depend on wrench type, precision, force and tightening and loosening torque. Other factors include maximum work load, the pressure/torque relationship and the calibration certificate.