How to choose this product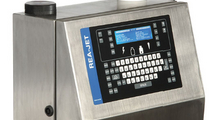 An inkjet printer can print on surfaces as diverse as paper, ceramic, metal, glass and textured materials.
Applications
Inkjet printers are common in offices, but are also used to print a draft copy before offset printing, to print labels or unusually wide documents and posters. Special inkjet printers are used for marking in agribusiness and the automobile and cable industries (characters, logos, bar codes).
Technologies
There are two categories of inkjet process: DOD and CIJ.

In Drop On Demand (DOD) printing, ink-drops are ejected only for effective printing. Piezoelectric, thermal or thermosetting mechanisms ensure ejection. The process is quite slow, and is often used to print across large widths. UV rays dry the ink, which resists fading.

In Continuous Inkjet (CIJ) printers, ink-drops are continuously ejected from the print head and deflected toward the surface, usually via an electric field. The unused ink is continually recycled. CIJ printing is fast, and often used in industrial marking.

In such applications, the print head is positioned extremely close to the surfaces. Portable, autonomous marking printer models exist.
How to choose
Consider DPI (Dots Per Inch) resolution, and IPS (Inches Per Second) printing speed.