How to choose this product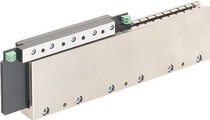 A linear motor is an electric motor that has been "unrolled." It uses the same electromagnetic principles as a rotary motor to produce linear motion along its length via a movement-inducing magnetic field. Its stators and rotors are arranged so as to produce linear force rather than torque, without the need to mechanically transform rotary to linear movement.
Applications
These motors are used for:
- Laser and water-jet cutting machines
- Ultra-fast linear positioning and assembly robots
- Loading and unloading systems
- Packaging
- Textile sewing and cutting machines
- Tool changers
- Specialized machinery
- Replacing hydraulic cylinders
Technologies
Several different configurations exist:
- Core-less types without iron have no attractive force between components, eliminating cogging, smoothing motion, offering longer life and better speed control (e.g., for scanning), but less power.
- Iron core versions are more powerful.
- U-shaped or aircore motors without iron offer greater acceleration because of reduced inertia.
Advantages
- Reliable and powerful
- Mechanically simple; few moving parts
- Great precision (to 2.5 µm per 300 mm)
- High speed (to 10 meters per second)
Disadvantages
- Expensive
- Relatively novel technology
- Inefficient (30-40%)
- Overheating tendencies