Nd:YAG lasers
32 companies | 156 products
How to choose this product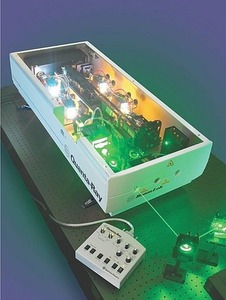 The Nd:YAG laser is a solid-state device using a neodymium-doped yttrium aluminum garnet crystal as its gain medium. Optically pumped by flashlamp or laser diode, it can function in continuous or pulse mode.
Applications
Nd:YAG lasers are among the most common of all types. They operate in the infrared, at 1064 nm. Industrial use is primarily for metal and plastic etching. With power levels of one to five kW, they are used in metallurgy to cut and weld steel.
Technologies
Nd:YAG lasers use several different technologies in continuous or pulse (Q-switching) modes. They can be pumped by laser diode (DPSS) or krypton flashlamps.
How to choose
Choice of Nd:YAG laser will depend on specific use. Operational wavelength is set at 1064 nm (infrared) by the use of the neodymium ion. Deposited power will depend on pumping mechanism (flashlamp or diode) and pulse or continuous operation.
Advantages
- High power
- Fiber optic transmission possible
- Control of deposited energy