How to choose this product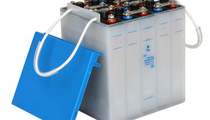 A Ni-Cd (nickel-cadmium) battery is a rechargeable battery with electrodes of nickel oxide-hydroxide and of cadmium, and an alkaline electrolyte.
Applications
These batteries are found in industrial, railroad, aeronautical and medical domains, as well as in personal and property security systems. They are also employed to ensure the reliable operation of telecommunications and energy management installations.
Technologies
NiCad cells are no longer available to the public in the European Union due to a ban on cadmium in portable devices. Industrial versions withstand overcharging and shock, have a long lifespan and can operate over a wide temperature range (from -50° C to +70° C). They outperform Li-ion and Ni-MH batteries in recharge-discharge cycle and peak current. Internal resistance is low and energy density in Wh/kg and specific power in W/kg are high.

In contrast, output is low and, as with lead-acid batteries, they accumulate gas and lose water if there is no safety valve. Self-discharge is high, up to 20% per month. They require a special charger and must be stored partially discharged to counteract the memory effect. Industrial models are subject to collection, treatment and recycling regulations.
How to choose
Choice will depend primarily on nominal voltage and storage capacity in ampere-hours (Ah).
Advantages
- Rapid charging
- High charge-discharge cycle capacity
- Inexpensive
Disadvantages
- Rapid self-discharge
- Subject to memory effect
- Presence of cadmium