How to choose this product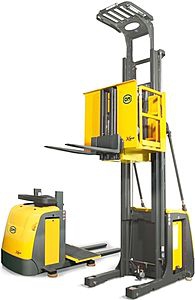 An order picker is used in warehouses as one element of supply-chain logistics. The mast has pallet forks and a place for the operator. The device raises the operator to the level of the storage racks to place ordered items on the pallet. Different sized machines are available for storage racks of different heights. There are both ride-on and manual, walk-behind models.
Technologies
Electric order-pickers enable the operator to take needed items from the storage racks by hand. The pallet sits on the front forks during the process. The operator remains at the same level as the forks, affording full visibility and easy access to the pallet at all times. The operator rides in an enclosed or reinforced cabin, or on an open platform behind the pallet forks.
How to choose
The height of the storage racks and the maximum load weight are important choice criteria.