How to choose this product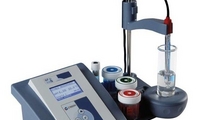 A pH meter measures the hydrogen potential of a solution, i.e., its hydrogen ion activity. It has a glass electrode and a reference electrode, or a single combination probe.
Applications
This instrument is used in laboratories to measure the pH of organic substances, biological samples or for the analysis of water samples.
Technologies
The pH meter measures the potential difference between its glass and reference electrodes, which constitute a galvanic cell.

Another probe is used for temperature correction. A combination electrode can unite all these functions in one unit.

The meter is calibrated with two or three buffer solutions (pH 4, pH 7, pH 10). The glass electrode is rinsed in distilled water and stored in a special solution after each use.

The measurement electrode can be of the insertion type or flat, for surface readings. The nature of the glass and the reference electrode's composition also vary with model.
How to choose
Choice will depend on the meter's precision, temperature compensation capacity and electrode characteristics. Intended use will determine selection of a bench or a portable model.