Protective clothing
How to choose this product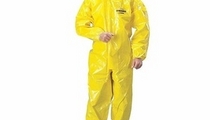 Protective clothing is suitable for all professional environments and situations. These include extreme climatic conditions (heat, cold, rain, etc.), specialized work environments (clean room, laboratory, medical domains, etc.) or risk of exposure to chemicals, fire, electric arcs and NRBC hazards, among others.
Applications
Numerous applications for these garments are found in nearly all branches of industry: medical, mechanical, electronic, etc.
Technologies
Technological advances have produced a wide variety of protective fabrics: waterproof, antistatic, dielectric, extreme temperature and chemical protection, etc.
How to choose
The dangers and desired protection must be defined before choosing an appropriate garment. Protective clothing should conform to applicable standards, as well as allowing sufficient freedom of movement while working.
Advantages
- Safety
- Comfort
73
companies |
613
industrial products
Chemical suit
ContiBarrierSystem®

CONTITECH
Personal Protective Equipment - Now with newly developed ContiBarrierSystem® Greater safety, comfort and economy these are the key advantages of the newly developed protective cloth material with...
2 000 bar

Salotech International B.V.
Safety first. Protective suit specialist TST Sweden has launched a new series of CE-certified protective clothing for waterjetting at ultra high pressure (UHP). Key features are the new certification...
For blasting
Hodge Clemco
Personal protective equipment is the most important piece of equipment on any blast system. This equipment will keep you safe, secure and comfortable during any hazardous process. Everyone's...
Fire safety clothing
GORE electronics
For more than 30 years, we have pioneered high-performance fabrics for firefighters and first responders. Because fire departments have different needs, our line of breathable moisture barriers spans...
Filter by :
› New products

(12)

› Products with video

(27)
Refine the search
Protective clothing
Extend the search
Search by manufacturer
Find a distributor
Search by catalog
Associated Terms
protective garments, protection suits, safety garments, safety suits, protection garments