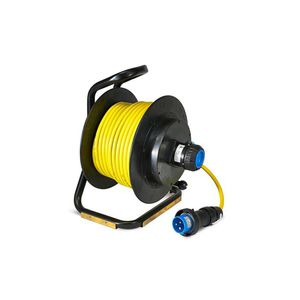 cable reel
LL-300/110/ATX, LL-300/110/CEAG, LL-300/230/ATX
ATEX Cable Reel The Wolf ATEX Cable reel is CE marked to the 94/9/EC ATEX Equipment Directive for safe use in Zone 1 (Cat 2) IIC, where a T6 temperature class permits. Operating from 230V or 110V, ...

Our range of products covers a huge variety of wooden reels for easy stocking and transport of wire ropes.

Length: 8000 mm
Diameter: 50 mm
... DC Hose Reel 38 is the second generation of our spring operated hose reel and is a complete redesign. The new DC Hose Reel 38 replaces part number 7305, which has been used for many ...

Length: 10000 mm
Diameter: 50 mm
... systems DC Hose Reel 50 is the second generation of a spring operated hose reel and it complements our hose reel family, which is used since many years in various plants all over the ...

... hose has a design that includes a self-winding reel containing ten meters of hose and is available in a colorful, elegant and streamlined casing that adds a dash of decor to any service garage. Elgi reels ...

hose reel
max. 50 psi | DEF
Length: 50'00"
For use with Diesel Exhaust Fluid (DEF) only Clean, fast dispense and transfer of Diesel Exhaust Fluid Designed for robust/heavy-duty applications. Stainless steel component will not react with fluid chemistry. Designed for robust/heavy-duty ...
See the other products
GRACO

hose reel
0 - 140 °F | LD Series
Length: 6, 12, 10 mm
Diameter: 15, 10, 14 mm
Economical enclosed hose reels get you up and running fast Designed for light-duty applications with flexible mounting options for easy, quick Installation. Reduce clutter and increase workplace safety with a Graco ...
See the other products
GRACO

Length: 12 m
This 12-meter cable unit has a H07RN-F3G1 supply line and uses 1380 watts of power or 2300 watts when it is unrolled. It also uses a 250 V/AC setup to make it as sturdy as possible. Interior components are protected against foreign ...

Diameter: 4, 5, 6, 8 in
Diversitech's vehicle exhaust spring-operated hose reels are designed to exhaust fumes and smoke from vehicle service facilities. Hose reels can be used to remove gas or diesel fumes using a retractable ...

Diameter: 100, 150, 75, 125 mm
... driven hose reels without fan ARMV – Spring driven hose reels with fan ART – Motor driven hose reel without fan ARTV – Motor driven hose reels with fan ARM/MT – Spring ...

hose reel
AP, AM, AE series
HOSE REEL WITH MECHANICAL REWIND: simple, lightweight but reliable, thanks to the high quality of the materials used. The APT model is equipped with a locking mechanism to stop the hose at the desired height. It can ...

- Whether media broadcast, network providers, industry or military, Sachsenkabel develops and manufactures for every application a customized solution based on high quality components - Virtually any configuration is possible: the combination ...