How to choose this product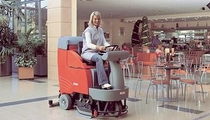 The ride-on scrubber-dryer is ideal for cleaning large floor areas. The operator's seated position reduces fatigue and greatly increases productivity.
Technologies
The scrubber dryer applies a precise amount of liquid detergent beneath the front of the machine. Rotary brushes scrub the surface and the dirty liquid is sucked up at the rear and stored in a holding tank. The powerful aspiration leaves the floor nearly dry. Ride-on models can be battery powered or run on diesel, gas or LPG engines. The last three are usually found on machines designed for outdoor use.
How to choose
Since ride-on scrubber-dryers are used to clean very large areas, the essential criterion is the machine's performance, expressed in square meters per hour. Other criteria are length and frequency of cleaning sessions, which can be limited by battery recharge time and the liquid storage capacity of the machine.
Advantages
- Washes and dries simultaneously
- Reduced operator fatigue
- Suitable for very large areas
Disadvantages
- Bulky
- Expensive