The Online Industrial Exhibition

... patented, award-winning, open-loop VRAD rotary actuators. Our unique VRAD design offers a magnetic spring return, very wide-angle capability, low power consumption, and completely linear response. VRAD ...

a successful development result together with our customer and a component of a promising new device generation that they consider to be important.

These kinds of actuators can be implemented to yield a torque-to-weight ratio about 10 times higher than a standard motor and Harmonic Drive configuration. One of the advantages of rotary actuators ...
See the other products
KNR system

rotary actuator
MY-1SZ-D series
Torque: 10,000 Nm - 168,400 Nm
MY-1S-D Series two stage quarter-turn gearbox for electric actuator INFORMATION ON WORM GEARBOXES MY-1S-D range of cast steel quarter turn worm gearboxes are ideally suited in valves, chemical, power, waterworks ...
See the other products
Wenzhou Yuezhong Mechanical Tech. Co.,Ltd

Electric motor-driven actuator installed on the damper to control the air flow rate

Stroke : 0 mm
Torque: 3.6 Nm
... KINOVATMSoftware development kit and ROS compatibility giving you strong communication on top of its physical strength, our 58mm actuator is always ready to go.
See the other products
KINOVA

rotary actuator
ISO, LR, GL, BV, DNV, SGS
Character : the parts and function 1 Indicator 2 Output shaft 3 Cylinder 4 End cap 5 Piston 6 Stroke adjustment 7 High performance spring 8 Bearing plate 9 Seal 10 Fasteners DA double acting type When the ...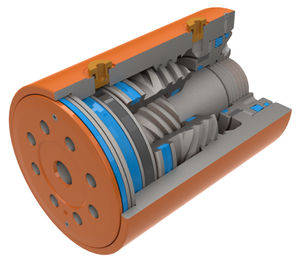 rotary actuator
L10 series
... are helical hydraulic actuators. It has a compact, sleek, and cylindrical design and it is ideal to be used where space is a premium. It is capable of offering peak shock resistance, and optimum-holding torque in tough ...
See the other products
Helac

The flexibility that marks CMB production is winning, in particular as far as market requests are concerned, because we can produce special cylinders according to the requirements of exclusive applications. Both the design and the whole ...

rotary actuator
EZ5000 series
Stroke : 0 m - 3 m
satellite dish positioner Details EZ-5000 FULL FUNCTION REMOTE POSITIONER FEATURE: 99 Programmable Memories IR Remote Control 3 Digit LED Display Drive dish up to 3M(Optional: 5M)
See the other products
PJM TEC

rotary actuator
SKE series
●Torque: 1-8Nm ●Types: SKE025 - SKE050 ●Swivel speed: single 1 second ●Suitable for 90゚fast axis position automation ●Provides more application solution for automation ●Guarantees up to ...
See the other products
RGK Automation Co., Ltd.

Our customer requested development of a differential drive for a scooter which would be compatible with an differential drive already in use. Customized gear boxes and covers were constructed and the required cast tools produced which ...

rotary actuator
SS Series
SS rotary actuators provide the "Muscle" for your lifting, turning, indexing, opening, closing, clamping, mixing, bending, testing, steering...applictions. For larger aluminum units, please consult factory.
See the other products
Micromatic

rotary actuator
BRC 125 series
Hydraulic double-acting balanced rotary actuator 90° quarter-turn with helicon spline. An actuator that deliver high torque without the need for large size, and are suitable for the most ...
See the other products
Damcos



rotary actuator
4th series
... their vast experience accumulated as the market leader with their high quality manufacturing level, famous reliability in actuator design and the passion to innovate. It has new and innovative technical features. These ...
See the other products
Air Torque

* Tiny - 2.00" x 1.54" x 1.50" (100 deg.) * Many options in tiny space * No Backlash at end of stroke * Long Life * "Sanitary unit" - easy to clean Plenty of torque - 9 in. lb. @ 80 psi Strong shaft & bearings ...
See the other products
Rotomation, Inc

ROTATION ANGLE AND TORQUES: Stainless Steel actuators, 0º-90º rotation angle to pilot ball, butterfly and plug valves. Broad range of actuators, both in Double Acting and Spring Return, from 25 to 470Nm ...

rotary actuator
Comp-Act series
The Comp-Act series from Compact Automation Product, is an electric rotary actuator with torque outputs from 9 in.lbs to 100 in.lbs. It can rotate to 90°, 180° and 270°. A unit with only one movable component, ...
See the other products
Compact Automation Products

Moog Flo-Tork hydraulic rack and pinion rotary actuators provide high performance, long lasting automation for both existing and new industrial and valve applications.
See the other products
Moog Flo-Tork

rotary actuator
LL series
Stroke : 1 mm - 200 mm
Stroke selection in 1mm increments With Strokes from 1mm To 200mm get the exact length you need ・Large variety With six available bore sizes, three styles of rod end, two types of ports and four options we offer many configurations
See the other products
KOSMEK

Working Pressure up to 100 bar Torque up to 5.380 Nm Angle of Rotation up to 360
See the other products
HKS Dreh-Antriebe GmbH

rotary actuator
R&S®RO129
... rotator. The rotator housing, together with the antennas mounted along the elevation/polarization axis, rotates around a fixed mast. This design allows other, fixed antennas (e.g. DF antennas) to be installed above the ...

Torque: 4 Nm - 20 Nm
... Standard * - 20°...180° on request - Output shaft: 9.5 mm squared - Versatile mounting and simple replacement for existing actuators
See the other products
ASCON TECNOLOGIC S.r.l

Torque: 5 Nm
... Standard * - 20°...180° on request - Output shaft: 10 mm rounded Versatile mounting and simple replacement for existing actuators
See the other products
ASCON TECNOLOGIC S.r.l

Torque: 4 Nm - 20 Nm
... Standard * - 20°...180° on request - Output shaft: 9.5 mm squared - Versatile mounting and simple replacement for existing actuators - Auxiliary shaft: * 9.5 mm Squared * 8mm Rounded
See the other products
ASCON TECNOLOGIC S.r.l