The Online Industrial Exhibition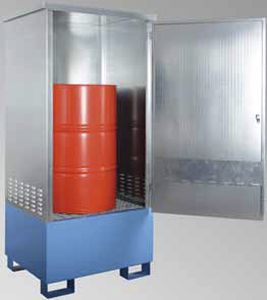 storage cabinet
WSP-1SKKS-D
... Weather-proof superstructure made from galvanized sheet steel, with venting slots in the side walls Compartment for documents in the door(s) as standard

electric cabinet
INVP series
Width: 150, 120 mm
Height: 240, 320, 380 mm
See the other products
Elentek srl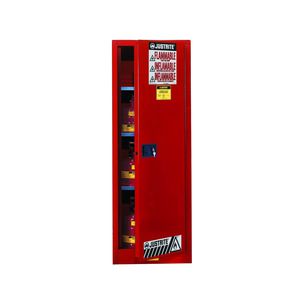 storage cabinet
89222x series
Width: 591 mm
Height: 1,651 mm
Depth: 457 mm
... and improve productivity by storing flammable fuels and chemicals in code-compliant safety cabinets. Designed to meet OSHA and NFPA standards, Sure-Grip® EX cabinets are constructed of sturdy 18-gauge ...
See the other products
Justrite

electric cabinet
SSTM(Q) series
Width: 650, 700, 500 mm
Height: 350, 450, 400 mm
Depth: 800 mm - 1,550 mm
... bridge type rectifies. When the capacity ≤ 6.2 KW, we supply power with single-phase; when >6.2 KW, three-phase. You can control the operation by pushing the buttons on the cabinet gate. An operation ...

storage cabinet
WW-TSS-ST-2000 KIT
Width: 1,060 mm
Height: 2,060 mm
Depth: 1,000 mm
Advantages of Weitner Tool Storage Furniture System • Keeps large number of tools in order • Enables quick access by a clear storage • Missing parts are easily noticeable • Efficient use of the limited space with a unique elegance • Can ...

This Cleanroom Wall Mount Cabinet with 1 door, has a very modern clean design and 3 internal shelves. Fabrication material: stainless steel with electropolished finish. The unique design allows the cabinet ...

Width: 600 mm
Height: 533, 711, 311, 400 mm
Depth: 450, 600 mm
SAFEbox IP55 Indoor Wall Mounting Cabinets are designed for industrial applications. Based on EN60529 provided IP55 protection class against dust and water ingress. Where the enclosure provides IP55 protection against ...
See the other products
Lande Endustriyel Metal Urunler Tic ve San AS.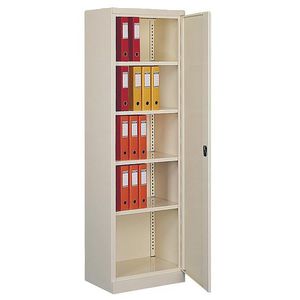 Width: 600 mm
Height: 1,990 mm
Depth: 435 mm
Document cabinets are designated to hold different documents. They are made from thin metal sheet 0.8 mm,spintos_dokumentams with a polymer coat which secures reliable protection against corrosion. Doors ...
See the other products
Vildeta JSC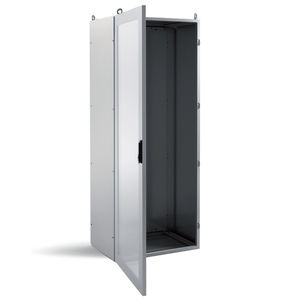 Width: 400, 600, 800, 1,000, 1,200 mm
Height: 1,800, 2,000 mm
... 1,5 mm (0.06") Door: lexan Door fixing: hinges Door opening: 120° Frame: reinforcement frame for the following widths: 600/800/1000/1200 mm (23.62"/31.50"/39.37"/47.24") Back panel: ...
See the other products
Irinox S.p.A.

Width: 1,420 mm
Height: 1,470 mm
Depth: 1,080 mm
... . A maximum wind suction rate of -0.25 kN/m² (on wall and roof) is incorporated. It also features a 1300 x 1250 mm single door that comes with a handle and security lock.
See the other products
Saebu Morsbach GmbH

storage cabinet
CSF239BMY11, CSF239MY11
Width: 595 mm
Height: 1,950 mm
Depth: 600 mm
... corrosive vapours. Certification as from EN 14470-1 and 14727 norms. • Automatic door closure in case the ambient temperature exceeds 47 °C (according to market). • Lock with key and door blockage. • ...
See the other products
Chemisafe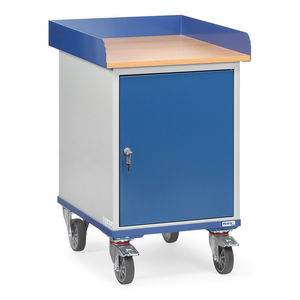 Width: 550 mm
Height: 875 mm
Leaf-door cupboard, lockable, 1 fixed and 2 adjustable shelves, 500 mm wide, 600 mm deep and 600 mm high. Surface out of beech plywood, 22 mm thick with skirting on 3 sides, 80 mm high. 4 swivel castors with TPE tyres, ...

ProCase® manufactures portable organisation systems featuring drawer chests with drawers that can be opened. These robust drawers allows access as the tools, screws and other components are stored. They also have a wide range of applications ...


storage cabinet
Wimax series
... and protection in every place where it's necessary. Structure : Extruded aluminum profile construction Double skin aluminum doors and panels provide natural ventilation system and isolation IP55 Protected Sandwich Panel ...

storage cabinet
105.210 series
Height: 720 mm
Depth: 800 mm
... vertically adjustable. On left side with drawer block with 3 completely extractable drawers. In right part one block with double door and intermediate shelf. Clear space above bottom 150 mm. Width of each block 400 mm. ...
See the other products
Eberhardt GmbH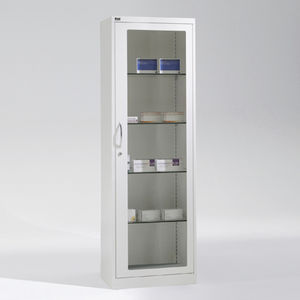 ... medicine cabinets give the practice a reliable character. The unobtrusive pure white is appropriate for all environments. Equipped with 2 or 4 glass shelves, they provide sufficient space for secure storage of medicines. The ...

protective cabinet
SERIE ARMADI DRC
Width: 400 mm - 1,600 mm
Height: 1,400 mm - 2,200 mm
Depth: 400 mm - 1,000 mm
THE EQUIPMENT INCLUDES: SOLID DOOR INTERNAL PLATE BACK PANEL Structure: 1,5 mm thick steel sheet drawn-columns bearing frame; drawn-columns are fixed and welded to die-cast aluminum joints. 25 mm pitch ...
See the other products
Zanardo SpA

workshop cabinet
7.90ARD series
Width: 635, 1,135 mm
Height: 670 mm
Depth: 615 mm
... resistant safety cabinets that are compliant to the standard EN 14470-1, have been tested successfully until 105 minutes. They allow storing your flammable products safely, and delaying the spread of the eventual fire ...
See the other products
Ecosafe S.A.

Width: 530 mm
Height: 1,900 mm
Depth: 400 mm
... modularity - Framework / frame type welded material thickness 0,7 mm Door type material thickness number of doors in height suspension and opening angle doorstop ...
See the other products
metal design slovakia a.s.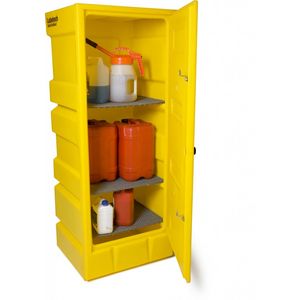 Width: 650 mm
Height: 1,650 mm
Depth: 570 mm
The Lubetech 31-1383 is a storage cabinet for drums constructed in a 650mm x 570mm x 1650mm framework. It integrates doors that can be locked and its shelves are removable. This cabinet ...

workshop cabinet
A.SECU, AGM1, APM1, BAC ETAG 22
Width: 600 mm - 990 mm
Height: 850 mm - 1,660 mm
Depth: 470 mm - 520 mm

As standard, the barriers cabinet is shot blasted and finish with a coat of polyurethane paint. A stainless steel finish is also avalaible in option.

electric cabinet
DCM series
Width: 1,000 mm
Depth: 1,200 mm
... , depth, tool-less accessories and multiple door options. The specially designed racks ensures optimized air flow and maximized useful mounting space. DCM racks offer compatibility with Liebert XDR rear door ...

control cabinet
MI105-101
The Model MI05-101 Merge/Isolate (M/I) Cabinet is designed to operate in a multi-zone Page/Party® communication system. The cabinet can selectively merge and isolate up to five zones that normally operate ...