Storage cabinets
12 companies | 66 products
How to choose this product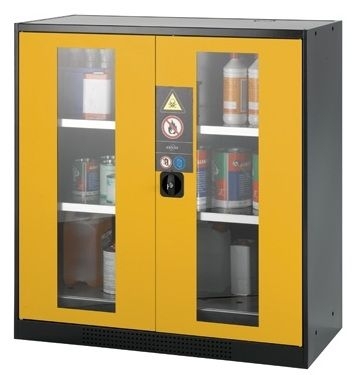 A storage cabinet is a piece of furniture intended to hold diverse objects and/or dangerous products. In addition to its sturdiness, it is distinguished by its protective characteristics.
Applications
These pieces are found in manufacturing plants, workshops and in the pharmaceutical industry. They protect the contents from fire, isolate them from the exterior environment or furnish controlled access to certain items.
Technologies
Cabinets holding flammable products, including petroleum derivatives, chemicals and gases, are fireproof. Others include a drip tray to catch fluid leaks. This protects floors and the surroundings from corrosive and toxic substances. Cabinets must be certified if used to store dangerous items. Icons indicate the type of protection offered. Such units are often locked or padlocked.

Some models have natural or forced-air ventilation, an air filtration system or temperature and humidity control. This is often the case when the cabinet holds biological products or small laboratory animals. A galvanized grate bottom allows the cabinet to be moved by forklift or pallet truck. The doors can be transparent or resistant to fire and impacts. A multi-risk model incorporates most of the aforementioned protections.