The Online Industrial Exhibition

TICO's S/CB Clamp Block is introduced to provide simplified yet efficient procedure of clamping. It is made for applications wherein pipes must be secured firmly while time permits expansion and contraction, due to temperature and pressure ...

tube support
Ø 10 or 12 mm / 0,125 kg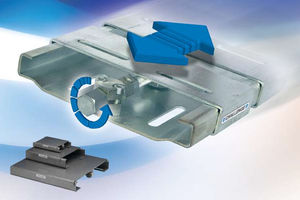 The Electric Motors and Motor Mounts are designed from rolled steel plate, and cast aluminium alloy materials. It is galvanized, to provide protection from harmful elements. The unit's screws are structured with stove ...

Description: big-bag rack base with topframe type MB/C Dimensions: 950 x 950 x 310 mm Weight: 1,00 kg

Light weight aluminium, easy to transport onto the job site1.09 m total length, will fit into most small vans and carsExtendable each side - 2.54 m extendedWill hold up to 227 kgOne point leg adjustment for leveling on uneven groundQuick ...
See the other products
Milwaukee

The Diamond Drill stand for DCM 2-350 C possesses a drill hole centering device, levelling screws and feed handles that are attachable to the both sides of the rig. It also comes with a 6 mm Hex Key, a 17 x19 wrench, ...
See the other products
Milwaukee

The wide-range of solder-less Chip-On-Board (COB) LED Holders produced by Molex answers the need for mounting COB LED arrays into luminaries. It allows simple, no tool integration of LEDs into lighting fixtures. Without ...

cable support
Aero-Motive®
This revolutionary Aero-Motive festoon systems are remarkably designed to support electric cables and hoses that provides power and control to moving equipment. This Slight variations can be accomplished with engineering ...

cutting stand
GTA 2500 W Professional
The GTA 60 W Professional assembled by Bosch is a saw stand that features a durable steel construction for a high degree of work security and provide users a long lifetime operation. This product features an ergonomic ...

sensor support
8200 series
The 8200 type is an analytical probe holder which is suitable for pH-, redox and chlorine conductivity. It can also be used in 8206 transmitter types, 8619 multicell types and 8205 controllers. The device is widely used ...

The Support Instruments for Ball Screws by NSK vary from precision bearings, to angular contact thrust bearings, and more. These support devices also present every applicable function for installing ball ...

MISUMI shaft supports convince with quality and precision. With regard to their designs, there is a lot of place to adapt the shaft holders to the individual application. Shapes: - Flanged, Slit, ...

Support Frame STB & Brace Brackets SK: Strong and Slim Compact, slim support frame STB 450 for single-sided pours up to heights beyond 12 m. Fits even into confined building sites and ...



PCB support
CBSB-10-01A2-RT
Adhesive Base Supports come with a double sided adhesive tape with a release tab for quick installation and the non-locking types are ideal for a quick release

Edge Locking Supports provide a secure hold on the side of the PCB. The anti-rotation feature adds security and the snap in fitting is ideal for quick assembly

... right place and protected when you dont use them. The rapid charge stand holds up to three pipettes and recharges them sequentially. Can be mounted on a bench or wall. Each rapid charge stand is supplied ...

precision support
M Series
... industries. Equally at home in dusty dry or wet humid environments, the rugged stand will offer secure support for your print and apply system for many years to come The innovative design has been ...

Extendable to 2,3 m Quick release brackets Adjustable leg Low weight 14 kg 180 Kg maximum load capacity

holder
S-GT/AT, S, H-GT/QS/AT Series

See the other products
Estampaciones EBRO, S.L.

See the other products
Estampaciones EBRO, S.L.

cable support
JOPRO Charger Stand
Charger stand for Jopro 1x, 2x, 3x or 4x Chargers stand on a shelf

battery charger support
JOPRO Charger Support
Charger support for Jopro 1x, 2x, 3x or 4x Chargers to be hanged on the back panel