How to choose this product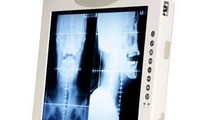 A tablet PC is a portable computer which uses a touchcreen instead of keyboard and mouse interfaces.
Applications
These devices are found in industrial, military and medical settings. Some are hardened and sealed against rain and dust for use outdoors or in harsh environments.
Technologies
Tablets often have several buttons along the edge of the front surface to facilitate operation. Integrated speakers and a camera are also common. Some offer a wireless keyboard connection or have a docking station.

The best touchscreens use infrared sensors, which react to proximity before the user's finger even contacts the screen. Capacitive screens operate via the distortion of an electrical field by the finger; they cannot be used wearing gloves. Certain technologies allow the screen to be protected by a layer of glass.

Tablets have USB, FireWire®, WiFi, IrDA and RJ45 Ethernet ports. Many models establish Internet connection through a cellphone. An HDMI port enables the device to be connected to a monitor, and memory cards may be read through the PCMCIA port. They use Android, Windows 7 or Linux operating systems.
How to choose
Choice will depend on screen size, battery life, ports, processor power and memory.
Disadvantages
- Unprotected screen