The Online Industrial Exhibition

air analyzer
TGA/DSC 3+ (SF)
... the many removable sensor types the TGA/DSC 3+ simultaneously measures heat flow in addition to the weight change. High temperature effects up to 1600 °C can be measured with a TGA equipped with the HT furnace
See the other products
Mettler Toledo Analytical Instruments

air analyzer
max. 20 000 mg/l | AquaSensors™ DataStick™
... is enough to interact with the data gathered, calibrate and customize the measurement. In addition, it can only work in temperatures from -5° to +50°C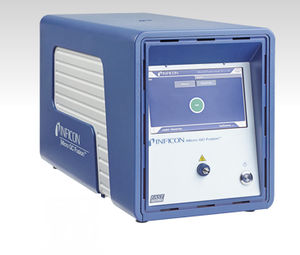 gas analyzer
Micro GC Fusion®
Micro GC Fusion offers significant throughput gain through rapid temperature ramping and modular architecture. The transportable, lightweight chassis and web-based user interface enables simplified operation for both ...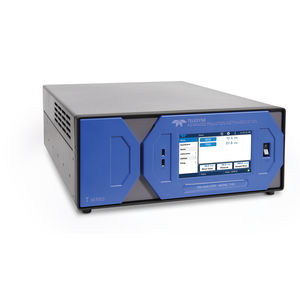 The Model T102 TRS analyzer uses the proven UV fluorescence principle to measure Total Reduced Sulfur at levels commonly required for ambient air monitoring. The Model T102 uses a high temperature ...
See the other products
Teledyne Advanced Pollution Instrumentation

water analyzer
CyberScan PC 10
The CyberScan PC 300 Model is a multi-parameter liquid analyzer developed by Eutech Instruments. It is built with high resistance to dust and water due to its IP 67 protection rating. The system is provided with stability ...

... subjected to a temperature regime. TMA uses interchangeable probes at varied loads to make a number of measurements, including the softening temperature or glass transition temperature, ...

flue gas analyzer
PEM 9004
... compensated) Nitrogen Oxide (NO) - optional Sulfur Dioxide (SO2) - optional Flue gas temperature Ambient temperature Differential temperature Differential pressure Calculated ...
See the other products
Teledyne Analytical Instruments

carbon dioxide analyzer
CARBOCAP® GM70
- Two optional sampling methods: diffusion or pump aspiration - User-friendly meter with multilingual user interface - Numerical and graphical display of measurements - Data can be logged and transferred to PC via MI70 ...
See the other products
VAISALA

chlorine analyzer
PCA300 series
The Hanna PCA300 series chlorine analyzers continuously monitor, control, and adjust chlorine content and pH of a sample stream. From drinking and wastewater treatment to pool and spa sanitation, monitoring chlorine ...

Important values securely under control The TOPAX DX is based on the longstanding experience of many generations of TOPAX controllers from Lutz-Jesco. Its modular design makes it an adaptable and a highly compatible partner in measuring ...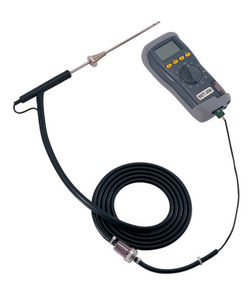 The SET-200 Stack Efficiency Tester is quick and easy to use. The unit measures O2 and CO content, and stack temperature, then calculates CO2, excess air and combustion efficiency. No special training or skills are needed ...

particle analyzer
icountBSplus
... controlled front-loading bottle chamber Selectable 12-language instruction manual menu Analysis of fluid moisture and temperature capability icountBSplus has the capability for online fluid measurement configuration ...
See the other products
Kittiwake

gas analyzer
BLUELYZER ST
This device is designed for measuring pressure, (draft) pressure measurement as well as differential temperature measurement and flue gas evaluation with one instrument. It is fitted with a TFT color display and is regarded ...
See the other products
AFRISO-EURO-INDEX

This CO2 analyzer from Lange is ideally used in the production of soft drinks. It renders fast services for applications that are concerned with knowing the levels of carbon dioxide, oxygen, and temperature ...
See the other products
HACH LANGE


EX800: ExStik® 3-in-1 Chlorine, pH, Temperature Kit Chlorine, pH and Temperature measurements with all the necessary accessories Features: Includes CL200 meter, pH electrode, reagent tablets, 4 ...
See the other products
Extech

electrical network analyzer
Lynx®
# Integrated rack mountable MCA based on Digital Signal Processing (DSP) technology # Two groups of 32K channel conversion gain/spectral memory # Operates in pulse height analysis (PHA), multichannel scaling (MCS), ...
See the other products
Canberra Industries

... Chlorine Sensor makes it ideal for efficient residual chlorine monitoring. Continuously measures hypochlorous acid (HOCl), temperature, and pH. * Low Minimum Detection Limit for Efficient Residual Chlorine Monitoring ...
See the other products
Hach

hydrogen analyzer
HY-OPTIMA™ 700B series
... hydrogen-specific process analyzers are designed for ease of use, interface flexibility and true process control. The HY-OPTIMA™ 700B series is a solid-state sensor that is configured to operate in process gas streams ...
See the other products
H2scan

... design . LCD display . User interface language:English . Simultaneous display of multiparameters . Automatic or manual temperature compensation . Several calibration methods available . 4 individually password protected . ...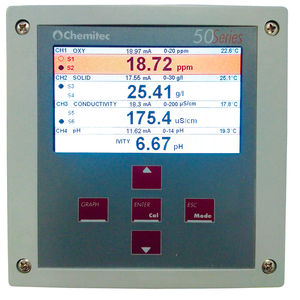 ... calibration menu. Then there is the Graph function key which gives direct access to the graphs of measure. It can measure the temperature using the PT100/PT1000 probe. It can download data on USB key. The device comes ...
See the other products
CHEMITEC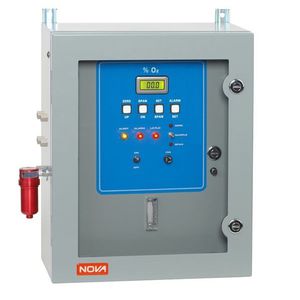 oxygen analyzer
Model 412N4
... built-in barometric pressure compensation and detector temperature control. A high resolution digital readout is included in the case of high-purity applications, such as Model 412HP. This analyzer works ...
See the other products
Nova Analytical Systems

biogas analyzer
RASI 700 Bio
... task oriented menu - Data logging, site management and data export to SD card Portable Biogas Analyser The RASI 700 BIO is a portable biogas analyser ideal for measuring gas in landfill, biogas, ...
See the other products
Eurotron Instruments UK ltd

... while scope and high precision of temperature control. · Timer and timing functions are available. · Exclusive air insulation technique leaves the case in room temperature, has thermal ...

BOSTON HD, the latest version of the prestigious range of portable combustion gas analyzers, has interesting new performances that put it at the top of the market. Usable on any heating plants of every dimension, it ...
See the other products
Tecnocontrol - GECA - CPF Industriale

water analyzer
Testomat® 808
... external load Protection class: I Degree of protection: IP 54 Conformity: EN 61000-6-2, EN 61000-6-4, EN 61010-1 Ambient temperature: 10 – 40 °C; 50 - 104°F Current interface: Output of defined values (5, 8, 11, 14, 17, ...
See the other products
Gebrüder Heyl Analysentechnik