The Online Industrial Exhibition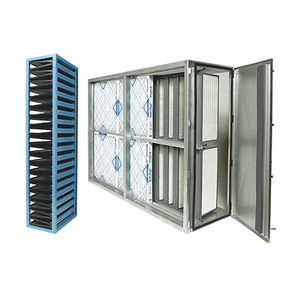 Flow rate: 2,000 ft³/min
Air Filter Housings Versatile line of Air Filter Housings designed for easy installation into original equipment and retrofit filtration ...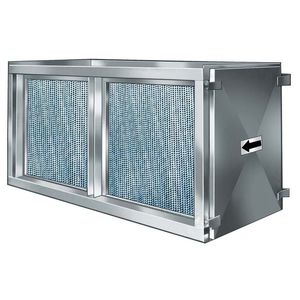 16 gauge aluminized steel construction 2" pre-filter and 12" box style standard construction Lever locking mechanism to lock hepa filter Bolt on doors Aluminized Steel Extends Life, ...
cartridge filter housing
BF
The range covers flows of 40 to 9000 m3/h, for a maximum operating pressure of 16 bars. The filters : - eliminate air pollutants (water, oil, particles) - are easy to fit - offer effective filtration ...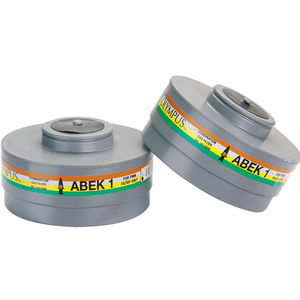 cartridge filter housing
Martcare® Unifit™ ABEK1
The gas, vapour and dust filters are designed to fit the JSP range of Midimasks. The full gas and particulate filter range is colour coded to European norms in EN14387 and EN143.
cartridge filter housing
PPF series
... product designs. The PPF Series provides the perfect balance between high performance filtration and low pressure drop. Patented filter elements (US 7,618,480 B2) maintain low pressure drop and long service life.By minimizing ...
See the other products
Pneumatic Products
single-cartridge filter housing
FAS, FAC series
Operating pressure: max 17.0 bar
The FAS and FAC Series is a single cartridge housings with bolt & nut closure for double open ended cartridges for air and gas applications. This product features 304L or 316L stainless ...
See the other products
Shelco Filters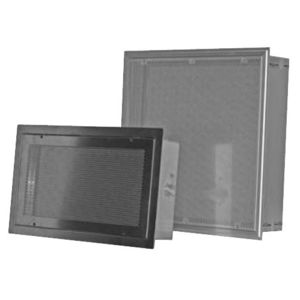 HEPA filter housing
DEC A, DEC S
AIR EXHAUST GRILLES FOR CONTAMINATION-CONTROLLED ENVIRONMENTS The air exhaust grilles can be made from anodised aluminium (DEC A) or AISI 304 steel (DEC S), can be made ...
See the other products
SagiCofim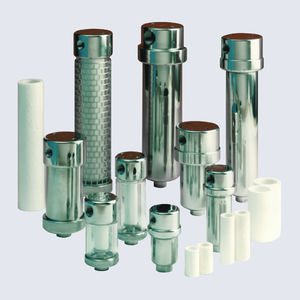 Filters for measuring devices and gas analysis. Particle filter, coalescence filter and adsorber. Gas analysis filters for air ...
See the other products
contec GmbH Industrieausrüstungen
- 25μ filtration. - Very high-flow filters with cyclonic effect centrifugal pre-filtration. - Polypropylene filter body. - Flexible 25 micron polypropylene mesh filter. - Working pressure: ...
single-cartridge filter housing
51 series Junior
Operating pressure: 10 bar
... Junior cartridge housings are renowned for their high quality design and manufacture. They are suitable for a wide range of standard Single Open End junior cartridges containing either pleated depth media or membranes. ...
See the other products
Amazon Filters Ltd
pocket filter housing
STAFI
Stanelle de-dusting filters are specifically suited for filtration of exhaust air during pneumatic filling of silos with pulverized, dry, bulk materials in the building- ...
cartridge filter housing
GFR
... 0.4MPa); 5、Unique diversion structure makes air flowing through properly rotate, which can more effectively separate the liquid from gas and reliably filter the solid grain; 6、The ...
... Decreased maintenance costs Increased cost effectiveness Different cartridges with specific filtration qualities These filters are available for a wide range of industrial applications, from the pharmaceutical ...
cartridge filter housing
ABF series
... vacuum filter that is capable of filtering dust and similar particles from the vacuum. It is equipped with a filter element that can be replaced, with a special filter ...
See the other products
AIRBEST PNEUMATICS CO., LTD.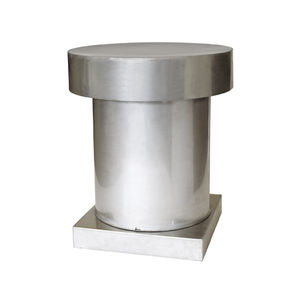 HEPA filter housing
ScandSafe
Flow rate: 90 m³/h - 3,000 m³/h
... outside air is sucked into the tank, along with all the accompanying pollutants. These pollutants soon cover the water surface and the inside walls of the reservoir, potentially spreading through the water pipes to the ...
See the other products
MANN+HUMMEL Vokes Air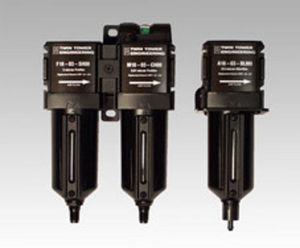 cartridge filter housing
513xx series
These sets of filters are matched to our regenerative air dryers (HR Series) and heatless regenerative compressed air dryers (VSA Series) in flow and performance. Our compressed air dryer filter ...
HEPA filter housing
E2600
Flow rate: 2,600 m³/h
E2600 Filter Housing for DUV, EUV Scanners Advanced protection for optics and resists Hybrid media chemical air filters remove a full range of contaminants including ...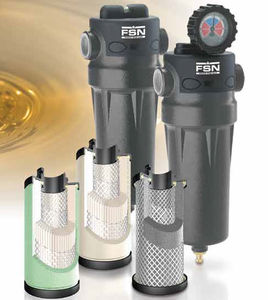 cartridge filter housing
xF series
... removal, antioil filters and carbon activated filters in oder to reach vapourless and odourless compressed air. The whole filter range features a minimum pressure drop and a long lasting operational ...
See the other products
FINI
cartridge filter housing
GP-146 series
The Dollinger series GP-146 high efficiency filters are designed to remove final traces of dirt, pipe scale and other solid contaminants from process air and other gases. Features Filter ...
pocket filter housing
Beta Bags®
... concerned with filter collapse, flow fatigue, or filter end-load problems. Beta Bags® can be installed and removed from their housings in a fraction of the time required to service ...
See the other products
Rosedale Products
cartridge filter housing
MAF-3
The MAF-3 Air Filter combines an air filter and mist separator in a compact, cost effective unit. The MAF-3 is the ideal unit for applications requiring maximum filtration ...
These filter housings for suspended matter from AFW Lufttechnik are able to deal with 1, 2, or 4 elements at a time. An articulated door is available for easy filter change. This machine ...
Operating pressure: 60 psi
The Sanitary Pharmaceutical filter housing helps ensure the integrity of your pharmaceutical or biotech application by providing a highly polished filter housing with ...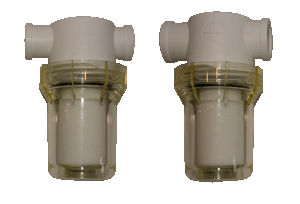 cartridge filter housing
EVFL series
... for the filters can be to filter out particles and also water(vapour). The filters use cartridges that are easy to exchange, so cleaning the filters is easy to do. PA ...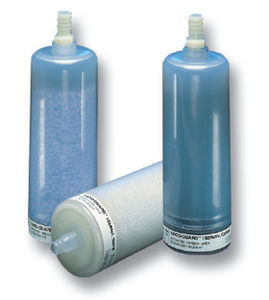 activated carbon filter housing
VACU-GUARD™
... Available with choice of chemical trap: activated carbon, molecular sieve, or desiccant. The easy-to-use VACU-GUARD inline filter devices help to confine and isolate infectious materials in vacuum systems and protect ...