The Online Industrial Exhibition
continuous inkjet marking machine
A120
... printer is ideal for a wide range of common applications where up to 3 lines of code is required. The cabinet is built in Stainless Steel and built to meet the IP55standard allowing it to be used in difficult environments.
See the other products
DOMINO
continuous inkjet marking machine
JET One
... to the SEALTRONIC automatic nozzle sealing system Easy to use and low operating costs JET One labels plastic, glass, wood, metal, ceramic, technical composites, cardboard and paper, without contact, and with fixed and ...
See the other products
Leibinger
Nd:YVO4 laser marking machine
LabelMarker
X travel: 172 mm
Y travel: 108 mm
... label marking and cutting solution for highest demands in performance and reliability. Full parametric control enables the laser marking of graphics and machine readable symbols and ensures ...
continuous inkjet marking machine
Z4700
... ergonomic and design tradition of Zanasi. Like all of the Zanasi product offerings, it has a robust and compact AISI 304 stainless steel IP55 cabinet without compressed air connection and can be integrated into any working ...
See the other products
Zanasi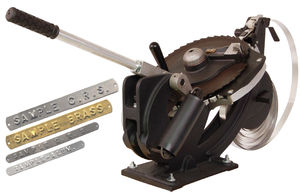 impact marking machine
T series
... end Manual units for low volume tag making; pneumatic units for higher volumes and operator comfort The Roovers Metal Tape Embossers use metal "tape" to create deeply embossed or debossed tags for heavy-duty ...
See the other products
Pannier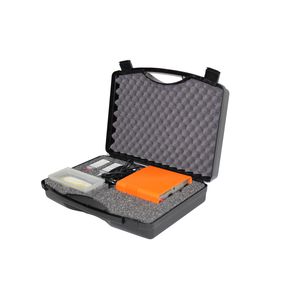 electrolytic marking machine
MK12
... lightweight and fast electrochemical marking machine for conductive metal surfaces. The system is best used to mark/etch: •Logos •Part codes •Names Benefits of electrochemical marking ...
fiber laser marking machine
Videojet 7210 / 7310
... the most compact, versatile and low maintenance solid-state marking systems available. The 7210 and 7310 have been designed for direct parts marking and unique identification applications on metals, ...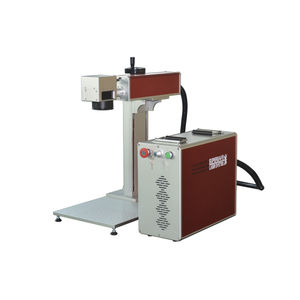 Nd:YAG laser marking machine
SW-FLM10P, SW-FLM20P, SW-FLM30P, SW-FLM50P
X travel: 30, 300 mm
Y travel: 30, 300 mm
... engrave metallic and non-metallic materials, for example, stainless steel decorating parts for handsets, clocks, watches, moulds, ICs, handset buttons, etc. The markers are able to engrave beautiful ...
See the other products
Shenzhen Superwave Laser Technology Co.,Ltd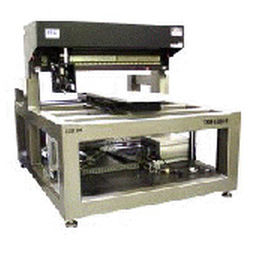 CO2 laser marking machine
Automatic laser marking system for kitchen cabinets manufacturers logos and bar codes. The stack of wooden parts loaded into the system and they automatically loading into the marking area, and conveyering ...
scribe marking machine
G series
X travel: 150, 130 mm
Y travel: 100, 80 mm
... surfaces Works on all types of metals including hard metals Maximum reliability and robustness MARKING Marking of variable texts, serial numbers, date and time, logos ...
See the other products
SITELMK3 S.r.l.
laser marking machine
HC300/HC100 CO2 Laser
... ensure high-efficient marking. Basic Parameters Rated Power:10W/30W Power Supply:220V/110V, 50Hz, 500W~1000W Language :English, Chinese, Spanish Marking Field :90mm X 90mm (standard) 50mmX50mm ...
dot peen marking machine
MARKTRONIC MARKMATE
X travel: 100 mm
Y travel: 75 mm
... the newest member of our range of dot marking machines. This easy to use dot marking machine allows you to mark almost any work- piece. Whether plastic or hardened ...
impact marking machine
FRAP S3
Manual control marking machine by hauling for identifying, numbering, milling, graduating... cylindrical, conical or plane pieces. It's a very strong machine, elaborated for serial works. Features ...
... serial numbers. To solve the problem, Control Micro Systems developed a laser marking system designed to apply and verify ECC 200 2D matrix symbology directly on stainless steel beer kegs of various ...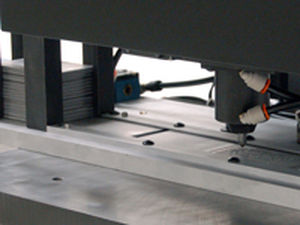 ... nameplate marking machines can mark permanent date codes, serial numbers, 2D data matrix, 2D barcodes, logos or any sequence of characters and numbers onto your metal tags and nameplates. Schmidt's ...
See the other products
Geo. T. Schmidt
dot peen marking machine
Identiplate® DPP2000
... automatically feeds and permanently marks metal data plates in a wide range of sizes and thicknesses. This fully programmable, table-top unit prints multiple character sizes from .03" to 4.00" (.76 - 101.6mm) on a single ...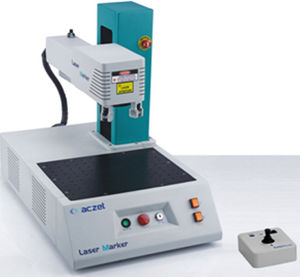 fiber laser marking machine
CFM 10F,CFM 20F
... producers of highend jewellery. It is perfect for engraving all types of precious and semi-precious metals, steel, titanium and many other materials, metallic and non.
Micro-Percussion Marking Machine is used to apply serial numbers and graphics using a marking head engraving on various materials: - steel - iron - copper - aluminum - plastics Various ...