The Online Industrial Exhibition

Diameter: 11.1 mm - 36.5 mm
Length: 240 mm - 868 mm
Universal joint couplings use a mechanical pivotal action controlled by radial bearings. The Huco-Pol range is injection moulded in acetal with controlled preload to eliminate backlash. This type of coupling ...

Torque: 1,100 Nm - 14,000 Nm
The application varieties for the CENTAJOINT system are almost unlimited - a real all-rounder due to its ability for misalignment almost providing unlimited applications in all kinds of power transmissions. APPLICATION icship propulsions ...

... flexible shaft is an important component part in the implementation of technical requirements. Equipment is used in surgery, gastroscopy, traumatology, laparoscopy and endoscopy whose construction could only be realised ...
See the other products
Schmid & Wezel Hilsbach Beteiligungs-GmbH

Length: 0 m - 5 m
... rotation. It is advisable to choose a left spring shaft to turn clockwise, and a right spring shaft to turn counterclockwise. In case of left spring shaft to turn counterclockwise and ...
See the other products
FIAMA

Diameter: 0.25 in - 2 in
Length: 0 in - 184 in
LinTech offers "Cut to length" Class L steel and stainless steel precision linear shafting. 1060 Carbon steel precision linear shafting is available from 0.250 to 2.000 inch diameters. 440C stainless steel shafting ...

Diameter: 4 mm - 80 mm
Applications Linear slides, linear bearings etc. Design Quality I Hardened by induction, ground between centres, lapped (high quality for A-XA-ZA). Quality III-R Hardened by induction, ground centreless and lapped (good quality for A-XA-ZA). Quality ...
See the other products
SFERAX

Diameter: 0.25 in - 2 in
Length: 0 in - 72 in
... Hard Coating Linear Shafting Designed to Run with Minuteman™ Self Lubricating Linear Motion Bearings Non- Magnetic Linear Shafting Contaminants Do Not Stick To Surface of Ceramic Coated Aluminum Shafting Ceramic ...
See the other products
LM76 Linear Motion Bearings

acme thread shaft Details Threaded Rod, Low Carbon Steel,Precision CNC machining services PJM TEC manufactures precision acme and lead screws by thread rolling, thread milling, or thread grinding processes. Each ...

Torque: 0 Nm - 9,000,000 Nm
Diameter: 0 mm - 1,200 mm
The production range of high quality and accurate Universal shafts just like special gearboxes covers the medium heavy-duty sector up to a torque of 9,000 Nm. These shafts are also useful for certain ...
See the other products
CAT

Diameter: 0 mm - 400 mm
Length: 0 mm - 1,600 mm
... up to max. Ø 180 mm length up to max. 1 600 mm milled and ground shafts and hubs inner profile, broaching tool-Ø max. 90 mm; work-piece-Ø max. 400 mm, length of broach max. 200 mm shafts and hubs inner ...

description High quality joints series "S" Min. and max. lengths on request: MIN.L. >= (MAX. L. + 2 L2 + B) / 2 STROKE X <= (MAX. L. - 2 L2 - B) / 2
See the other products
MARIO FERRI

Diameter: 0 in - 32 in
Unlike gears, splines only apply the transmission of power on the same axis. In Arrows products, most splines are used on shafts and internal diameters of gearing for the purpose of mounting. Arrows size range and capabilities ...

Length: 0 mm - 2,000 mm
... milled, broached, ground according to DIN 5480, 5462, 5463, 5471 and 5472 Splines according to DIN 5480 and 5482 Serrated shafts and hubs according to DIN 5481 External spline max. grinding length up to 2000 mm Internal ...

Diameter: 8 mm - 90 mm
Length: 130 mm - 900 mm
... BÜCO's precision shaft joints are marked during assembly. When putting the shaft joint together again, make sure that the markings on both halves of the joint are opposite to each other.
See the other products
Hans Bühler

Diameter: 25, 20, 15, 13 mm
Length: 30, 20 mm
Involute Spline Shafts & Bushings Gear teeth Stub tooth Pressure angle 20 Material S45C (Carbon steel) Heat treatment Normalized Surface hardness HB 225260 Surface treatment Black oxide Surface finish Cut Datum ...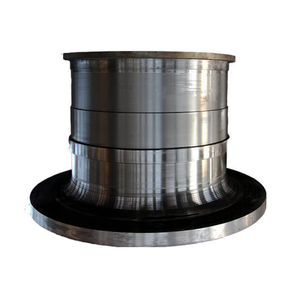 steel shaft
Ball mill trunnion
Main function of ball mill trunnion is to support and connect cylinder, and it is also the access way for the material. Weight: 5-30 t Material: ZG230-450 Customized: Yes Ball mill trunnion (ball mill head) is an important part ...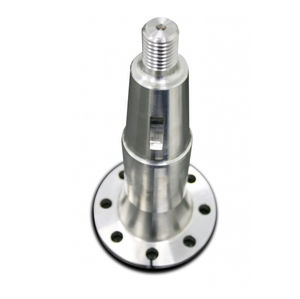 Motor Pump shaft extension castings / OEM Specification OEM service for Valve shafts and Valve Stems. Valve shafts with flange per customer's design. Material: ...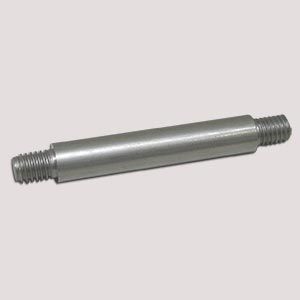 Diameter: 0.25, 0.38, 0.5, 0.63 in
Length: 1.375 in - 9.375 in
Aluminum, Steel, Stainless Steel and Brass Lever Shafts, Inch

Torque: 20 Nm
Diameter: 28 mm
Length: 1,000 mm
Use: mounted on the angular idler pins, it transmits synchronised and not aligned movement to 2 positioners. State of supply 1 fixed sleeve body in polyamide, 1 removable sleeve body in polyamide, 1 stop ring for removable sleeve in ...