{{loadProductsPushed('subcat','552', '','','4', '3')}} {{#pushedProductsPlacement4.length}} {{#each pushedProductsPlacement4}}

{{product.productLabel}}
{{product.model}}
{{#each product.specData:i}} {{name}}: {{value}} {{#i!=(product.specData.length-1)}}
{{/end}} {{/each}}
{{{product.idpText}}}
{{#if company.requestButtonsVisibility.requestButtonQuestion == "ACTIVE"}}
{{elseif company.requestButtonsVisibility.requestButtonWhereToBuy == "ACTIVE"}}
{{/if}}
{{#if product.innovationType}} {{else}} {{#if product.newProduct}} {{/if}} {{/if}} {{#if product.hasVideo}} {{/if}}
{{/each}} {{/pushedProductsPlacement4.length}}
{{loadProductsPushed('subcat','552', '','','5', '3')}} {{#pushedProductsPlacement5.length}} {{#each pushedProductsPlacement5}}

{{product.productLabel}}
{{product.model}}
{{#each product.specData:i}} {{name}}: {{value}} {{#i!=(product.specData.length-1)}}
{{/end}} {{/each}}
{{{product.idpText}}}
{{#if company.requestButtonsVisibility.requestButtonQuestion == "ACTIVE"}}
{{elseif company.requestButtonsVisibility.requestButtonWhereToBuy == "ACTIVE"}}
{{/if}}
{{#if product.innovationType}} {{else}} {{#if product.newProduct}} {{/if}} {{/if}} {{#if product.hasVideo}} {{/if}}
{{/each}} {{/pushedProductsPlacement5.length}}

optical filter
206 - 900 nm | 10BPF10 series
Bandpass filters provide bands of high transmission and of high rejection of spectral energy on both long and short wavelength sides of the transmission band, which isolate a band of wavelengths from the total spectrum. Bandpass ...

optical filter
ø 0.5 - 1 in (12.7 - 25.4 mm), 193 - 1550 nm
Laser Line Filters are ideal for transmitting laser light while suppressing ambient light. The center wavelength shifts linearly with temperature less than 0.02 nm/°C. The highly reflective side of the filter should generally face the ...

Dichroic strainers isolates a comprehensive spectrum of dainty into two mechanisms; a mirrored component and a transferred module. They offer the capability to select diverse groups from a variety and straight those groups to wherever ...

optical filter
ø 0.5 - 1 in (12.7 - 25.4 mm) | FR, FSQ series
Our absorptive neutral density filters provide broadband attenuation for the visible to near-infrared region. These filters are precision polished for demanding research or OEM applications. Three sizes are available 12.7 and 25.4 mm ...

optical filter
1 535 - 1 565 | FLTR-OPT, TBF Series
Newport's Tunable Bandpass Fiber Optic Filter features high isolation, low back-reflection, low polarization sensitivity and low insertion loss. In between two angled fiber optic collimators lies a BRA thin film coating interference ...

The RGB Color Filter modules are designed for use with QImaging's line of high-resolution monochrome CCD cameras to capture high-quality color images. Features Liquid crystal filter element Single cable connection to QImaging cameras Sequential ...

The Fluorimeter Filters, manufactured by Jenway® are excellent excitation filters because they only allow specific wavelengths through the sample. The product consists of a cut-off and interference filters in which it functions as emission ...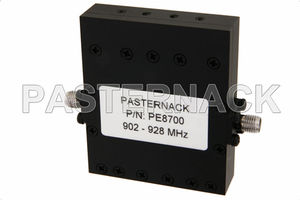 band-pass filter
902 - 5900 MHz
Pasternack RF bandpass filters (BPF) are tractable coaxial elements that permit particular frequencies to move within a specific distance and declining frequencies (attenuation) beyond that range. Bandpass RF filters by Pasternack can ...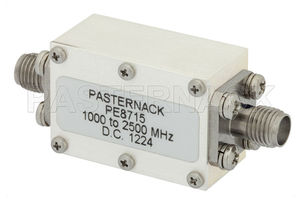 high-pass filter
300 - 1000 MHz
With these Pasternack RF highpass filters (HPF), high frequency signals are able to pass within a certain range and attenuate (reject) frequencies outside that given range, which is up to 2.5 GHz in this case. These are passive coaxial ...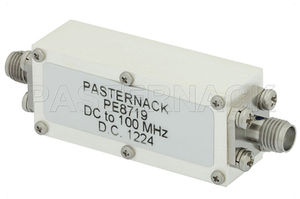 low-pass filter
DC - 700 MHz
The RF lowpass filters, which are manufactured by Pastersnack, are passive coaxial components that allow passing of low frequency signals within a given range and reject frequencies outside that particular range. The unit is available ...

Alluxa Inc., a leader in high performance optical filters for the Visible and NIR extends its next generation plasma PVD process to filters in the mid-IR spectrum. The new technology offers performance improvements and new design options ...

Alluxa's Ultra Narrowband filters offer the narrowest and "squarest" filter profiles in the visible and NIR with very high transmission levels typically greater than 96%. Our proprietary advanced plasma PVD process uses durable, hard ...

Alluxa's Ultra Series of high performance filters now includes our Ultra-Narrow UV Filters. These ultra-narrow filter capabilities are both deeper into the UV and narrower in the VIS/NIR. Our current designs include a 266 Narrowband ...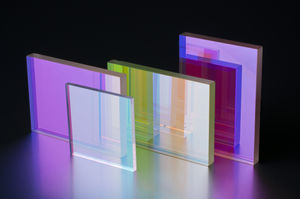 Alluxa's Ultra-flat Dichroic thin film filters feature a flatness of 95% without the need for backside compensation. These filters are unique because they achieve flatness by eliminating the high stresses of as-deposited traditional ...

Knight Optical supply high quality optical components for use in fluorometers, fluorescence spectrometers, microplate readers and x-ray fluorescence applications. These applications are extensively used in the medical and biomedical ...
See the other products
Knight Optical (UK) Ltd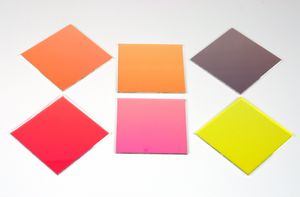 Dichroic band blocking filters are designed to block an isolated bandwidth while transmitting all other wavelengths. While traditional glass and interference bandpass filters offer improved blocking characteristics, the advantage ...
See the other products
Knight Optical (UK) Ltd

Dichroic bandpass filters are designed to transmit highly over a specific limited bandwidth while reflecting all other wavelengths. Their design allowed them to isolate the desired wavelength. Dichroic filters offer superior contrast ...
See the other products
Knight Optical (UK) Ltd

Shortpass filters are designed to transmit wavelengths lower than the cut off point and reflect all higher wavelengths. Knight Optical's Dichroic filters are comprised of a thin-film dielectric coating on glass, resulting in sharp transitions ...
See the other products
Knight Optical (UK) Ltd

Longpass filters are designed to transmit wavelengths higher than the cut on point and reflect all lower wavelengths. These dichroic longpass filters consist of thin-film dielectric coatings on glass with sharp transitions between ...
See the other products
Knight Optical (UK) Ltd

Almost all UV radiation (especially 240-280nm) is absorbed by Earth ozone layer, and the UV radiation that is created by some object near the Earth surface, can be detected only using special zone filters. Crystal materials are robust ...

PhotonTec Berlin supplies and distributes a wide range of optical components from lenses, windows to beam splitters and polarizers. We cooperate directly with the manufacturers and provide both standard and customized optics. All products ...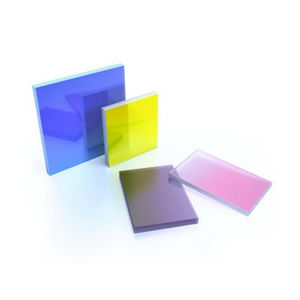 The Farbige Glass filter is made up of Schott glass with surface quality of 60-40 Scratch and dig. It is Uncoated and Unmounted. Its Color glass filter provides an economical solution for many various applications. It can be use in ...
See the other products
Altechna

The Interference Filters feature a spectral range starts from 250 nm to 5000 nm. These various filters can be apply as wavelength selectors in astrophysics, clinical chemistry, material analysis, quality control. This product have the ...
See the other products
Altechna

The Neutral Density Absorption Type Filters (with custom transmittance, dimensions and shape), delicately manufactured by Altechna, generally functions through minimizing the intensity of light even without modifying the relative spectral ...
See the other products
Altechna

The Circular Variable Neutral Density Filter functions at an operating wavelength range of 380nm up to 2000nm in BK7. In UVFS, the wavelength dimension ranges from 250nm up to 25000nm. The device has a wide, finite aperture which can ...
See the other products
Altechna

The Linear Variable Density Filter has transmitted intensity that serves as function of the optical density dimension. It can be utilized for lasers and white light applications. Moreover, the device is available in BK7 and B 270 components. ...
See the other products
Altechna

high-pass filter
HP/04, LP/04
This device provides brick wall type minimization of spurious minimal frequency phenomena. This tool possibly invalidate data from piezo-electric sources. It has a vibration acceleration signals that supposedly include thermal and strain ...

Absorption, and particularly wavelength selective absorption is an important factor in the function of the filters. The two most commonly used absorbers are thin metallic films which are particularly insensitive to wavelength for absorption, ...

optical filter
min. 0.5 mm | Solaris™ IR
PSCs IR filters are used in remote controls, security systems, sensors, barcode scanners, iris recognition systems, number plate recognition systems (ANPR), IR cameras and other areas where there is a need to exclude visible light combined ...

optical filter
0.5 - 4 mm | Solaris™ Colour Acrylic
The Solaris™ S range is broad range of transparent coloured optical filters used in a variety of applications for contrast enhancement, colour conversion or colour correction in displays, e.g. VFD, LCD or LED. Solaris™ S optical filters ...

band-pass filter
FI212B190223-T
MULTILAYER CERAMIC DEVICES [Multilayer Ceramic Devices (Band Pass Filters)] Features Compact and Low-profile Low loss and high attenuation Stable temperature characteristics

The EMC Optical Fiber is capable of 80% light transmission that involves transparent acrylic. It is constructed either in silver-plated, blackened or bright mesh in copper or stainless steel material. The device is available in forty ...

optical filter
Lambda VF-5™/ VF-1™
Sutter Instrument introduces two new filter changers specially designed for wavelength selection over a wide spectral range to any given nanometer value. The Lambda VF-5™ and Lambda VF-1™ employ the innovative VersaChrome® thin -film ...

band-pass filter
SuperK VARIA
The new SuperK VARIA is an affordable and dependable option to a monochromator that helps in effectively turning the SuperK supercontinuum white light channel into a strong one-line laser with a 420 nm tuning distance and changing bandwidth. ...

Sydor Optics manufactures precision optical filters based on your custom specifications. Common optical filter substrate materials include all Schott, Hoya and Isuzu color filter types, Fused Quartz, Fused Silica, Borofloat, B 270, N-BK7, ...

The ZFM32H/300 is a high quality installation filter specifically created for eliminating adamant noises particularly LF and HF. It also gives a spike-proof functionality to avoid harsh elements to deeply penetrate and eventually crash ...

Volume filters fabricated from colored glass Mounted and unmounted versions available Mounted types fit to LINOS Microbench m  Tolerances: Ø 22.2mm: ± 0.2 mm; Ø 50 mm: +0/-0.6 Thickness: ± 0.2 mm Bubbles: 1/ 5 x 0.25 Striations: 2/ ...

optical filter
0142 series
Applications: Excimer, UV, harmonic Nd:YAG (266 nm + 355 nm + 532 nm), Argon, KTP Material: laminated mineral glass Filter color: orange VLT: ca. 40%
See the other products
PROTECT Laserschutz GmbH

optical filter
0155 series
Applications: Alexandrit, Ti:Sa, Diode, Disk, Nd:YAG, Faser, CO2 Material: laminated mineral glass Filter color: turquoise VLT: ca. 45%
See the other products
PROTECT Laserschutz GmbH

optical filter
0159 series
Application: CO2 High-Power Material: mineral glass Filter color: transparent VLT: ca. 90%
See the other products
PROTECT Laserschutz GmbH

optical filter
0167 series
Application: UV, Dye, HeNe, Diode Material: Mineralglas Filter color: blue-green VLT: ca. 9%
See the other products
PROTECT Laserschutz GmbH

optical filter
0170 series
Application: HeNe, Diode, Ruby, Alexandrit, Ti:Sa, Disk, Nd:YAG, Faser Material: laminated mineral glass Filter color: blue-green VLT: ca. 14%
See the other products
PROTECT Laserschutz GmbH