This O-ring seal is developed by Boca Bearing Company. It is a circular shaped mechanical gasket as well as a loop of pliable materials with a disc shaped cross section. This seal is specifically made to be seated into a groove and compressed ...

Boca Bearings presents oil seals. They feature a flexible lip, which rubs against a shaft or an enclosure. This prevents fluids and debris from getting leaked or contaminated. For correct installation, it is important that the seal lip ...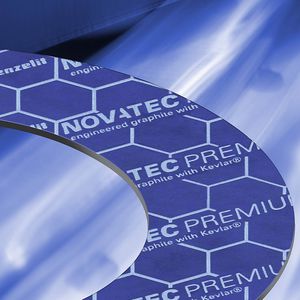 flat seal
novatec ® series
The unique material combinations from graphite and Kevlar ®, tailor-made for the individual applications, show their profile especially in their outstanding media and temperature resistance. The performance clearly outstands fibre-reinforced, ...

circular seal
novaform ® 2300
novaform ® 2300 is based on an ingenious raw material blend of high-quality aramid fibres, special functional fillers and synthetic NBR. The new material combines the characteristics of fibre gaskets with the positive properties of ...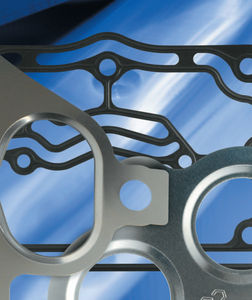 Metal bead gaskets become more and more important as secondary gaskets in engine construction and for compressors. Frenzelit is specialised in the manufacturing of "tailor-made" gaskets. With state-or-art technical systems at hand, e.g. ...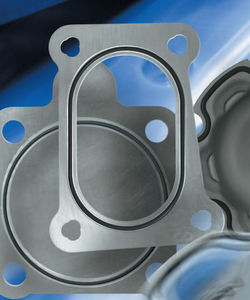 Gasket systems with the name "novaform ® FDV" are made with dispenser technology. The dispenser creates an elastomeric bead in a defined position (see photo). The difference to the already known FIPG- or CIPG- is the precisely applied ...

The JVRU, JTRU Series, manufactured by FG Inox, and is a sealing that is available in models with nominal diameters ranging from DN 8 up to DN 50. The series have an external diameter that range from 15 mm to 62 mm. They also features ...

Rotary Shaft Seals made from PTFE offer outstanding properties for reliable selaing of rotary shafts. We offer various types of Standard Rotary Shaft Seals. HN 2390, HN 2580 and special types according to your application.

PTFE Pisten Seals PTFE Rod Seals Spring-energized seals and memory packings are always the ideal choice for sealing static or moving pistons and rods. ElringKlinger Kunststofftechnik offers a broad range of standard products, supplemented ...

PTFE Seals Guides for Piston Compressors Environmentally Compatible Sealing even without Lubricant Seals for dry-running applications are currently a focal point of technical development. They significantly reduce a machine's operating ...

Temperature limit: -40 °C - 85 °C
Diameter: 10 mm - 60 mm
The OR series is an O-ring seal, manufactured by Shanghai Richeng Electronic Co., Ltd. This product is made with metric PG and rubber design. It can operate with the working temperature of -40° C to 85° C. This series is offered ...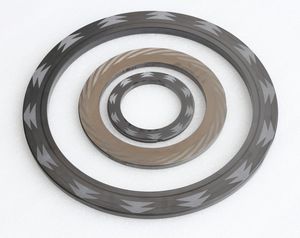 Sealing rings are fabricated from silicone carbide making them completely susceptible to corrosive substances and are capable of conducting extreme heat. They are characterized by their ability to self-lubricate and can expand at compact ...

This instrument is a seal developed by anvis Industry. It is designed to have a large diameter. In addition to that, the molded parts of this seal can have a diameter that can react at most 72 inches. Furthermore, the seal is equipped ...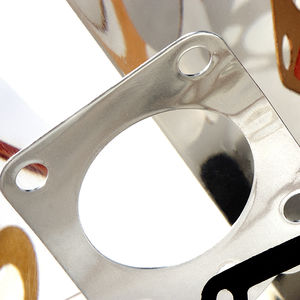 The quality charter (ISO 9001 Certification) and the respect of the specifications that are determined in partnership, guarantee the quality of our prestations. If customers require a flat seal for the new product, Jicey provides you ...

The Alumina Ceramix Seal Ring is equipped with a tight tolerance feature. It is made from 96, 99 Alumina and Zirconia materials. The ring is built with a resistance against abrasion. An extensive hardness wear resistant feature is integrated.

General GFD metal O-rings have been developed as a secure sealing of gases or liquids. They even can be used in case of extreme conditions. These static and metallic sealing elements can be applied in ranges of ultrahigh vacuum and up ...

The GFD metal C-rings in this product series are static sealing elements, which you can use for machines and installations with high requirements. In addition to this, the metal C-rings are also regarded as more elastic than standard ...

General Information The GFD spring energized PTFE seal is the newest generation of spring actuated Teflon seals. These seals consist of a special precision jacket/lip made of Teflon (or other high performance polymers) and a corrosion ...

Radial Lip Seals with PTFE Sealing Lip A reliable sealing for difficult and extreme working conditions The new generation of GFD-rotary shaft lip seals were especially developed for useunder difficult and extreme conditions. The superior ...

V-ring seal
ø 25 - 610 mm | 33K series
The 33K system is a seal for rotating shaft, manufactured by A.W. Chesterton Company. This product features a split seal structure used for protection of bearing, gearboxes, pumps and rollers. It excludes the requirement and costs for ...
See the other products
A.W. Chesterton Company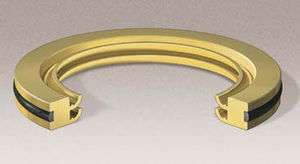 C-ring seal
ø 20 - 150 mm | 30K series
The 30K series by A.W. Chesterton Company is a bearing protection seal which features its high performance lip seal. For this specific tool, it is ideal for dynamic rotary sealing applications. Using this tool, it gives an excellent ...
See the other products
A.W. Chesterton Company

circular seal
ø 25 - 200 mm | 30KC series
Chesterton provides comprehensive engineered polymer solutions for an array of applications. Its range of polymer seals is designed to deliver outstanding performances in a vast gamut of installations spanning the pneumatic, rotary and ...
See the other products
A.W. Chesterton Company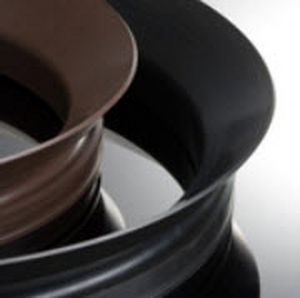 circular seal
ø 180 - 1405 mm | 50K series
Chesterton's 50K Series of mill rotary face seals are generally utilized for ingress protection applications, including solid particles, dust, and liquids, while locking lubricants in rotary operations. These seals are manufactured out ...
See the other products
A.W. Chesterton Company

V-ring seal
ø 273 -1380 mm | 5xk series
See the other products
A.W. Chesterton Company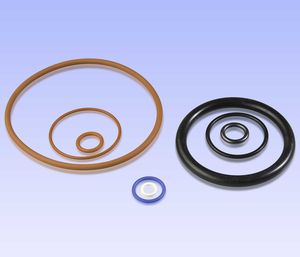 Diameter: 0.74 mm - 206 mm


leak-proofing washer
217523
Internal diameter: 4.8 mm - 6.3 mm
External diameter: 14 mm - 25 mm

circular seal
DN 1/2'' - 4'' | 5554

O-ring seal
DN 50 - 150, DIN | 62394

C-ring seal
DN 50 - 150, DIN | 62395


circular seal
E6-10 series
Temperature limit: 0 °C - 80 °C
Diameter: 2.9 mm - 401 mm

Temperature limit: -40 °C - 100 °C
Diameter: 2.5 mm - 540 mm

The Rubber O-ring seal series, manufactured by Barbieri Rubber srl®, is utilized in a metric and imperial series that are standard or in different variation of material that can be both standard and bespoke. When a dedicated mounting ...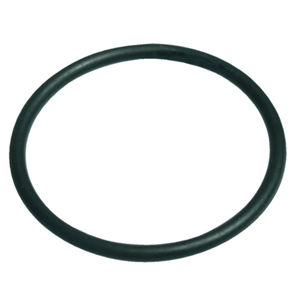 O-ring seal
EPN 510 series
Diameter: 9 mm - 59 mm
The EPN 510 Series, manufactured by Protec Plastics, is a series of "O" Rings generally designed for usage with Quick-Fit range of cable glands. This ring is classified as IP68 when it comes to protection rating. In addition, it is capable ...

Diameter: 0 mm - 2400 mm
Repack-S supplies a comprehensive range of static seals including lip seals, scrapers, bearing seals and mechanical seals. These include O-rings, elastomer and metal energiser composite seals, D rings, back-up rings, X section profile ...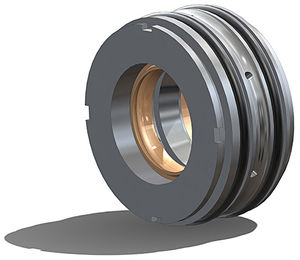 Rotary sealing is one of the most common applications for Repack-S seals, from oil and gas turbo-compressors, race engines to large hydropower valves and industrial pumps. application rotativebdRepack-S supplies mechanical seals, lip ...

The Repack-S DANA range offers a wide range of rotary sealing options. Of particular note is the DANAROTO® seal. It comprises an inner polymer pad with multiple radial sealing grooves in contact with the rotating shaft, and an elastomer ...

needle bearing sealing ring
Sealing rings for needle bearings Sub-group, ABEG des., Example type, IKO, Shaft range, INA, Shaft range one-lip, G-, G-10x14x3, OS, 6-75 mm, G-, 4-70 mm two-lip, SD-, SD-10x18x3, DS, 14-72 mm, SD-, 8-50 mm

Metaltex represents a Texpack® evolution in the assembly technology sector guaranteeing a longer gasket lifetime. In fact, Metaltex belongs to the Texpack® family of flat gaskets reinforced with graphite, featuring a special characteristic ...
See the other products
TEXPACK

Temperature limit: -200 °C - 450 °C
Elastograf gaskets are made by founding a corrugated metal core with a fine layer of flexible graphite that has a high external density and increases the sealing capacity compared with other traditional gaskets. The particular shape ...
See the other products
TEXPACK

The Texgraf gaskets have particular stability to temperature, pressure and corrosion. Their field of application includes the whole range of «flat seals», from missile and aerospace technology to the chemical and car industry. The flat ...
See the other products
TEXPACK

The fire-safe graphite seals are gaskets produced with expanded graphite tape wrapped in a spiral and moulded. These gaskets cover the whole sector of application of pumps and valves, while also proving to be excellent for specific uses ...
See the other products
TEXPACK

The spiralwound gaskets are made of metal tape with a specially shaped profile coupled with a filler tape (graphite, ceramic or glass fibre, PTFE), spirally wound with constant winding tension. The shape is usually circular, but can ...
See the other products
TEXPACK

ring lip seal
800 - 20 000N | NYRUB AX
The latest development from SGF securely connects components while simultaneously allowing movement in all directions. > NYRUB AX connects components with no play > Allows for tolerance compensation > Compensates for reactive forces > ...