How to choose this product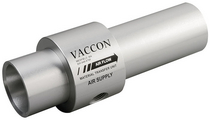 Air conveyors use compressed air to transport goods around a pneumatic conveying system. Requiring no moving parts, these systems are able to transport a variety of goods of different size.
Applications
The range of applications is vast, including products such as, plastic pellets and other granular materials, wood chips, sawdust, waste, food products, bulk solids and textiles.
Technologies
The compressed air injected in the conveyor creates a vacuum effect at one end of the system and a high output flow at the other end. This the goods through the system.
How to choose
Generally, four criteria guide the choice of an appropriate model: tube diameter, size of objects being transported, rate and constituent material (stainless steel or aluminum).
Advantages
- Instant on/off
- Quiet operation