How to choose this product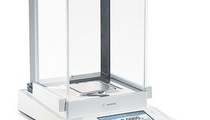 Analytical balances are used to measure mass with a high degree of accuracy and precision. They are commonly surrounded by a glass or plastic shield to block air currents.
Applications
Analytical balances are most often found in laboratories for precise measurements that require high resolution. They are used in applications requiring a high level of resolution, ranging from 0.1 milligrams to 10 micrograms.
Technologies
Analytical balances are extremely sensitive and require a protection shield to surround the weighing platform. This shield prevents air currents, dust and other impurities from interfering with the weight measurements. All analytical balances are electronic and use a strain-gauge based load cell. Some models provide internal calibration, to prevent error due to temperature changes and other factors.
How to choose
When selecting an analytical scale for your laboratory, consider specifying the capacity, resolution, weight and size of your weighing samples. Make sure to specify the additional functions you would like to have, such as counting, percentage weighing, density and other options that may not be standard features on all analytical balances.