How to choose this product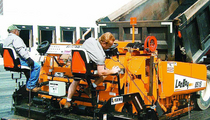 Asphalt pavers are mobile machines on wheels or caterpillar tracks that apply asphalt during roadway construction and maintenance.
Technologies
There is a hopper at the front of the asphalt paver into which trucks continually load fresh asphalt. The trucks back up to the hopper and tilt their dump bed, allowing the asphalt to flow down.

The asphalt is then transferred to the back of the paver where it is spread on the roadway through the adjustment unit, which allows the operator to maintain control of the asphalt's width and thickness.
How to choose
Asphalt pavers are mainly chosen for the width of the asphalt layer they can apply.