The Online Industrial Exhibition

Throughput: 2,800 p/h
PLS-C series palletizers are employed for the palletizing of packed goods low shape stability such as hard-to-palletize sacks. The machines thus meet the demands set out in the chemical industry. Throughput of the PLS-C ...
See the other products
Möllers

high level infeed palletizer
PERSEUS Series
Discover the best configuration for your specific requests. Our traditional Palletisor with 90° infeed is a multi-sector palletising solution, allowing high performance high energy saving.. Perseus N is our traditional 90° infeed ...

articulated palletizer
FLEX
Throughput: 15 p/min
... dimensions of the palletising section and flexibility, in line with real market needs; these aspects characterise the FLEX PALLETIZER, equipped with a 4 or 6-axis robot working at impressive speeds.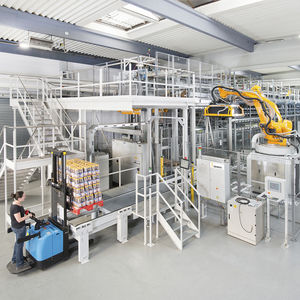 Dematic solutions for automated storage systems AMCAP is a high performance system for automatic building of mixed-case pallets, addressing the latest requirements for the grocery retail industry. Flexibility ...
See the other products
DEMATIC

The gantry palletizer allows users to place products on the pallet per row, unit or layer, depending on set speed. This device has a very small footprint, and the gripping unit or peripheral equipment is used to grip ...

high level infeed palletizer
VERO-S NSA plus
The NSA plus module for the VERO-S is the new automated palletizing system for automated production. It is the specialist in automated machine loading that assures high accuracy for utmost ...

gantry palletizer
MINISTRATUS PLUS
If a user is looking for a sturdy and reliable case packer and pallettizer, the Ministratus Plus could be the right choice. This packer offers a reduced footprint with clean and ergonomic design, and is easy on changeover while providing ...
See the other products
Marchesini Group

robotic palletizer
STRATUM™
Throughput: 0 p/min - 40 p/min
Designed to be integrated with Douglas packing and cartoning equipment, the Stratum™ completes your packaging process from start to finish. This robotic palletizing system dispenses and conveys pallets, meters cases on the product infeed ...

layer palletizer
1000, 1500, 1800, 2500P series
Throughput: 200 p/h - 2,500 p/h
Automatic palletizer series 1000/1500/1800/2500P, medium throughputs Bag palletizing systems for 200 to 2500 bags/hour This range of automatic palletizers is the answer ...
See the other products
Newtec

high level infeed palletizer
AC series
Throughput: 8 p/min
The PREMIER TECH AC-200 System is a type of Case Palletizer. This device is characterized as an automatic device, and is made up with a compact structure palletizer. It is equipped an ...

layer palletizer
Alvey 900 series
Throughput: 125, 160, 200 p/min
Very high-speed palletizers designed for superior package handling, pattern forming flexibility and reliability. There are many Alvey 900 series palletizers still in operation 24X7 for more than 30 years. ...
See the other products
Intelligrated

high level infeed palletizer
PEWO-pal 6.1
Throughput: 10 p/min
PEWO-pal 6.1 / Single-station palletizer Compact palletizer for fully automatic pharmaceutical lines Performance of movement on a compact footprint: single-station palletizer ...
See the other products
Pester Pac Automation

layer palletizer
Genius Series
Throughput: 0 p/h - 700 p/h
... create customized solutions according to speed, container type and programs. The range includes steady and moving pallet palletizers which match the highest performances available in the market today, and is designed ...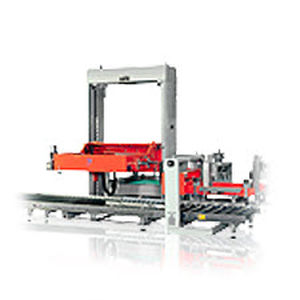 Paglierani designs and builds automatic palletizers with the same construction philosophy used for all of their machines: customized design and a high level of know-how. Paglierani offers innovative ...

low level infeed palletizer
MT 598
Throughput: 0 p/min - 4 p/min
... pick up head with inflatable tubes for layers of bottles and vacuum plate to pick up layers of wide mouth containers. All automatic palletizing systems can be equipped with industrial PC (HMI) to allow the following ...
See the other products
Emmeti

Throughput: 12 p/min
The PalTeq Compact is a fully automatic four-axle machine with low construction height for palletizing shipping cases or trays. Offers for palletizing systems on the basis of robots as well as customized solutions can ...

automatic palletizer
P 15
Throughput: 15 p/min
... and light curtains in the pallet removal area. Uses both US and European type pallets; Fanuc robots for placement; Automatic Palletizer arranged with single or double floor pallet station; Human interface ...

Throughput: 20 p/min
... The powerful and cost-effective solution for maximum accuracy and different pallet loading arrangements. Highlights Fully automated loading and unloading of packs to and from palletsLow-maintenance linear guiding units ...

robotic palletizer
RMP 160/3
Robot to form pipe pallets in fully automatic mode. Possibility to process pipe bundles (previously packed either by IRT or IST) or pipe packages fixed by saddles (previously packed either by RMT). Quick and reliable ...

layer palletizer
500 Series
Throughput: 15 p/min
Conventional Case Palletizer The 500 Series offers solid, semi-automatic palletizing of cases, cartons or trays at an affordable price with minimal operator input. Simply place the empty pallet into ...
See the other products
ARPAC Group

high level infeed palletizer
CSi Palletising Systems manufactures dedicated palletising machines whose arrangement of one palletiser per production line maximizes the production efficiency. This arrangement permits only one machine to be affected by any stoppages. ...
See the other products
CSi industries B.V.

Suitable for palletizing or depalletizing through use of a gantry crane. Available in numerous versions, based on the product application, including: with integrated vacuum system and suction cups for handling the trays between layers ...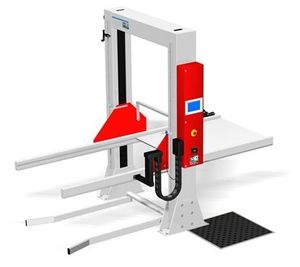 The pallet loader can operate as a semi automatic unit, or it can be integrated into a fully automatic palletising system. More on the pallet All cases, including heavy and bulky ones, can easily be ...

case palletizer
AST series
Parts feeding to the robot is an important element of automatic production systems. If orientation and position of the workpiece is not accurate, automatic systems will not run efficiently. Sensitive ...

layer palletizer
oli-pal series
Throughput: 12 p/min
For single station solutions our product range includes several compact palletisers: oli-pal A: Basic machine oli-pal B: Basic machine with pallet roller conveyor oli-pal C: Basic machine with pallet roller conveyor and pallet magazine oli-pal ...
See the other products
oli-Spezialanlagen