How to choose this product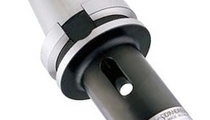 BT tool holders are a family of holders which use a specific mounting design for computer numeric control (CNC) machines. As with other types, they hold cutting tools and offer easy tool changing on machining centers.
Applications
These devices are most commonly used on Japanese and European-made machining centers. They are suitable for milling, drilling, boring and tapping operations.
Technologies
Such holders have a special, dual flange design, distinguishing it from the other steep-taper designs, like CAT, ISO and SK. It also uses a metric thread on its pull stud.
How to choose
BT tool-holders come in various taper shank sizes: BT30, BT40, BT50 and BT60. Choice will depend on the model appropriate for the milling machine.
Advantages
- High-speed stability
- Balance