The Online Industrial Exhibition

low-voltage cable tester
1143-5000
Identifies defective insidewire and jacks Measures resistance, AC/DCvolts, quasi square wave, andpair balance Identifies shorts, opens, crosses and grounds Replaces the need for other meters Provides tone for twisted ...
See the other products
GREENLEE

continuity tester
9 - 19 000 ft (3 - 6 000 m) | CA7027
... and communication cables, given access to one end only. The Fault Mapper Pro® measures cable length and indicates the length and distance to cable faults to a range of 9 ft (3 m) to ...
See the other products
AEMC Instruments

... 3.0 need to be performed. As soon as the TW8 is being connected to the AXOS 8 it gets automatically indicated via the link cable (intelligent input).The user selects on the coupling unit (TW8 module) which impedance ...
See the other products
Haefely Test AG / Hipotronics INC

leakage current tester
TOS3200
The Leakage Current Tester TOS3200 is designed to perform leakage current (touch current and protective conductor current) tests on general electrical equipment but not medical electrical equipment. It enables you to ...

... costly service technician repeat calls due to intermittent cable system problems. The single tone frequency output of the Merlin paired with a leakage detector allows the discovery of damaged cable system ...

... , Resistance, Diode, and Continuity * Transmitter/Receiver enables one person to remotely identify up to 16 wires * Wire voltage check from 5 to 16VDC * Data Hold and Max Hold, Auto power off * Low battery ...
See the other products
Extech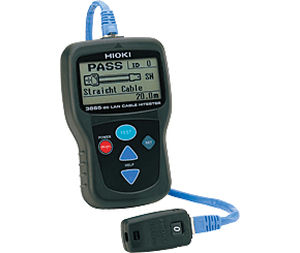 network tester
2 - 300 m | 3665-20
... industry. It is equipped with a wire map check that functions by sensing split pairs using its wiring check. The cable is equipped with a measurement accuracy enhanced by NVP. It also has the capacity ...

LAN network tester
TPT-8020A
... an easy-to-use and portable test set with advanced cable locator and simple network tester in one unit. Besides identifying wiremap, measuring the cable length, diagnosing cable ...

insulation resistance tester
TESTECRAN+™
Check the outer sheath of buried low or high voltage cables TESTECRAN+™ is used to check the outer sheath of an underground medium or low voltage cable, by measuring the insulation resistance between ...

LAN network tester
EazyLAN
... testing of RJ45 UTP & STP cables. The EazyLAN is equipped with a manual and auto test mode and gives the user a good/fault indication at the end of a test. If the cable has failed the EazyLAN will indicate ...
See the other products
Mors Smitt BV

voltage tester
TESTBOY 10
The non-contact voltage tester Testboy 10 detects live conductors on cable connections, cable drums, sockets, switches, junction boxes etc. Due to capacitive measurement procedures, no ...
See the other products
Testboy

wireless communication network tester
5211 series
... is a self-contained portable enclosure that can check cell phone transmit and receive functionality with or without direct cable connection to the RF or data ports.

continuity tester
P 1800D
The compact ground bond tester with 4.3'' colour TFT display. With the ground bond tester P 1800D, standardised ground bond tests and continuity tests can be performed on devices of protection class ...

... red or blue depending on the quality of continuity) doubled by an audio signal - Single button for all functions - 30m cable length to reach conductors that are very far away from the equipotential reference TECHNICAL ...

voltage tester
MTP 660-632-061
Volt Stick® is an instrument for safety checking the presence of an AC voltage in cables, wall sockets, fuses, circuit breakers, junction boxes, etc. No current flow is needed for correct operation of the Volt Stick Sound®. When ...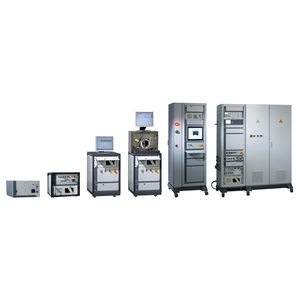 high-voltage tester
GLP3-Class series
The GLP3-Windows®-testers are our premium testers to test a variety of different complex products. They are preferably used to test electric component groups, run-in test benches, power supplies, cables, ...

... mains powered testers are suitable for the automatic testing of holidays/porosity in non-conductive coatings. Incorporating a re-settable high speed counter, they are ideal for use within production processes and can ...

electric tester
WK 260 MU
... test of cables, harnesses and electric components for Automobiles, computer and electronic devices. It can be operated completely without a computer and thus seamlessly integrated into the production process. With its ...
See the other products
WEETECH GmbH

The ROCKO Series , manufactured by Microplan ® , is a squareness tester that includes a gauge stand designed in black granite from with a surface support and a vertical lapped sliding faces. It has also a cart that ...

capacitance tester
CENTER 361
CENTER 361 - Insulation Tester (50/100/250V, 100G ohm) Features: 4 digits LCD display Auto range for all function Test hold function for easy operation 50/100/250V for insulation measurement ...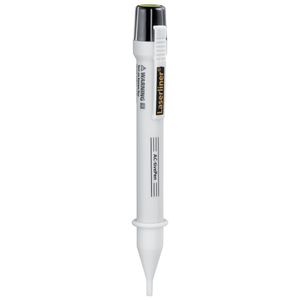 Description: – Locates electrical voltages in cables, sockets, bulb sockets and fuses – Determines polarity of L/N conductors, e.g. on sockets or terminals – Finds breaks in wires and cables – Clearly ...
See the other products
Laserliner

... /100 base - 10 base-2 cables - RJ45 cables - AT&T 258A cables - EIA / TIA 568A/568B cables - Token ring cables • Testing installed cable ...

continuity tester
LinkMaster™
... shielded modular plugs The LinkMaster™ Tester consists of two units. The main unit is connected to one end of the cable to be tested and the remote unit is connected to the jack at the far end of ...
See the other products
IDEAL NETWORKS

For cables: RJ-45 /RJ-11 /USB /1394 /BNC Removable transmitter module: no need for two people to test Checks continuity, ruptures and short circuits Maximum cable length 180 m (600 ft)

insulation tester
UI-15/225
Test set UI-15/225 designed for testing electrical strength of cable insulation AC voltage line frequency, according to the "Rules for Electrical Installation" and RD 34.45-51.300 with a maximum voltage of 15 kV and a ...
See the other products
KharkovEnergoPribor Ltd.