How to choose this product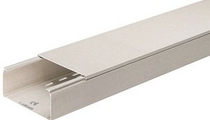 Cable trunking is used for routing and concealing unprotected cable and wire networks in factories, office buildings and other settings. It can be installed against walls, under floors and overhead.
Applications
Cable trunking is used in a broad range of commercial and industrial cable and wiring applications. It is used on production lines to protect electrical cables from moving machinery and personnel.
Technologies
Trunking comes in all shapes, sizes and materials, either rigid or flexible. It may be fire resistant, corrosion resistant or waterproof.
How to choose
Make sure to specify your wire load rating, needs and space constraints when asking for a quote on cable trunking.