The Online Industrial Exhibition

solvent cleaning machine
Coclea Series
Drum washing plants are particularly suitable for the continuous and random treatment of small and medium-sized pieces, such as screws, bolts and small metal pieces in general. The material is moved forward by the slow ...
See the other products
CEEVER

solvent cleaning machine
EcoCWave
ALL-ROUND TALENT FOR AQUEOUS PARTS CLEANING The EcoCWave is a powerful spray flood cleaning system with a vacuum-tight work chamber. At the user's option, it can be equipped for either two or three independent ...
See the other products
Dürr - Ecoclean

solvent cleaning machine
VEGA series
VEGA Drum Washing Machines Bonfiglio's drum washing machines (type VEGA) are specifically designed to wash pieces in bulk, without any previous orientation. Piece dimensions ...

solvent cleaning machine
Multi Wash
The "firstborn" among the combined cycle spray and immersion machines with rotating drum (commonly known as hydrokinetic or IF), the Multiwash is a product that features the efficacy and reliability appreciated by customers ...
See the other products
Tecnofirma

solvent cleaning machine
Euro LLATT series
The spray washing / drying eurotherm is manufactured by EuroTherm. This device is a three-phase range methane and/or GPL burner that has a maximum temperature of degreasing bath of 60 °C. This device is also suitable ...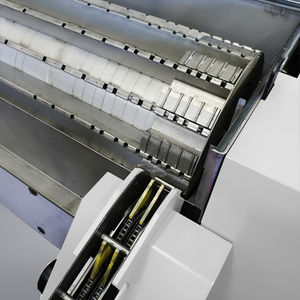 water cleaning machine
RASACLEAN ET
Capacity: 2,000 l
The RASACLEAN ET is a drying and cleaning machine designed with wet areas made from stainless steel. This machine provides a good solution for tubes and solid bars that extend up to 4,500 ...

water cleaning machine
PWA 12
... quality cleaning, easy operation and maintenance are the outstanding advantages of the PWA12 post washing machine, a special Hinterkopf design for the use in food industry. The two-chamber ...

Basket Washers From low output, standard basket washing machines to high output, customer specific systems, Newsmith Stainless offers a range of versatile and effective basket washing ...
See the other products
Newsmith Stainless

water cleaning machine
OmniJet / CBW 218®
Stainless Steel constructed in-line cleaning system for the electronics assembly industry. Aqueous cleaning sytem featuring stainless steel construction, sustained high solution and dryer ...
See the other products
Stoelting

water cleaning machine
Jetwash series
... YEARS. JETWASH MACHINES HAVE BECOME THE INDUSTRY BENCHMARK, DUE TO THEIR RUGGED AND HEAVY BUILT DESIGN WHICH CAN ENSURE ITS USE 24 HOURS A DAY. Jetwash machines are built entirely with stainless steel, ...
See the other products
VIXEN

solvent cleaning machine
VEN CLEAN PIPE
Alkaline cleaning station with dryer Pipe cleaning systems are designed according to the processing requirements. Here the machine line length changes equivalent to ...

Designed to wash parts as they flow through a production line. Can be designed to wash a variety of different parts. Flexible tooling design allows for easy maintenance if new parts are being incorporated into a production line. A variety ...

Tunnel washing and drying ovens allow the effective automatic continuous drying of components and can be often employed as part of an in-line production system.

15 DIN BASKETS DOUBLE DOOR WASHER DISINFECTOR DOUBLE DOOR WASHER DISINFECTOR FOR CSSD washing up to 95 °C - antibacterial thermal disinfection capacity of 15 DIN baskets programs: ...
See the other products
smeg

top-loading cleaning machine
Bambino
Our versatile BAMBINO TOP LOADERS are adaptable for a wide range of applications. They are especially well-suited for cleaning and degreasing small parts and/or for moderate throughputs. BAMBINO TOP LOADERS are loaded ...
See the other products
EVT Eiberger Pföhler

solvent cleaning machine
ROTIMAT 3/3U
System for efficient spray cleaning of parts with aqueous cleaning media The ROTIMAT 3 as 1-bath system and ROTIMAT 3U as 2-bath system are batch systems for spray cleaning of parts ...
See the other products
PERO

ultrasonic cleaning machine
MP
The MP Cleaner combines several effective cleaning processes in one stainless steel machine. A comfortable, full automatically operation due to an integrated PLC-steering. This steering ...

cleaning machine with dryer
TURBOIDREX
... . Turboidrex is an automatic vegetable washer with spin-dryer, designed for restaurants, hotels and small institutions, but also ideal for greengrocers and delicatessens. It features an exclusive, patented ...

solvent cleaning machine
VACUUM-CAST 3000
... All possible ways of washing (immersion, spraying, ultrasound) are held in a vacuum. This increases the security of the entire process and prevent accidental opening of the working chamber and improves the quality of ...
See the other products
Castor Unia Gospodarcza Sp. z o.o.

solvent cleaning machine
SP.1610.4.2.4
See the other products
TRIULZI

... product line of recycling equipment. These systems are generally utilized for applications that involve drying, grinding, and washing operations of components made out of PE foil materials. They are capable of performance ...
See the other products
BOCO PARDUBICE machines, s.r.o.

ultrasonic cleaning machine
S.A.M.3
The real innovative system for patients and operators safety in all in one apparatus. Ultrasonic cleaning with automatic detergent/disinfectant liquid dosing, multiple rinsing cycles with water supply, heat treatment ...
See the other products
Soltec

ultrasonic cleaning machine
Solvac V Series
... designed for rotor cleaning but can be applied to clean other similar, dificult to clean components. The system incorporates both vacuum distillation and drying technology. Ultrasonics can be fitted to enhance microscopic ...
See the other products
CC Hydrosonic

water cleaning machine
EL 1000
... automatic washing. Full cleaning of the components are guaranteed and the rotary motor-driver basket saves time. A bio-detergent solution and water does the cleaning, while the temperature is set at 0 ...
See the other products
ELLEGELLE MACHINERY

water cleaning machine
VORTEX SERIES
... maintenance at the refrigerator condenser coil and the heat pump. These models, an optimal responses to the needs of dry cleaning industry for heavy production, were developed in close collaboration with research institutes ...
See the other products
FIRBIMATIC