The Online Industrial Exhibition

air monitoring system
LaserHawk®
The LaserHawk® was designed to comply with the performance specification for continuous particulate monitors. A complete system includes an optical head, purge system, enhanced remote ...

Joint-meters are used for continuous monitoring of cracks and joints and are widely employed in many civil engineering works such as dams, tunnels, buildings. They are mounted across the joint and detect ...

flow monitoring system
IMR 100
To determine the mass flow in CEMS systems for large combustion and waste incineration plants. Measurement of exhaust gas velocity, gas volume and the gas temperature are obtained. The IMR 100 is the ...
See the other products
IMR-Messtechnik

condition monitoring system
Accuguard
Introducing Accuguard, a cost effective solution for continuous monitoring of vibration, temperature and bearing conditions of a rotating machine. Accuguard can be programmed to automatically shut ...

vibration monitoring system
MX2020
The SETPOINT system features up to 56 channels of vibration monitoring or 84 channels of temperature and process variable monitoring in any mix. 4-, 8-, and 16-slot rack ...

power monitoring system
MAS 711
We provide pump monitoring systems well adapted for the different models of pumps and mixers. Monitoring systems such as Flygt MAS are designed to protect and stop a ...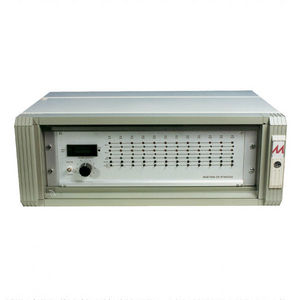 vibration monitoring system
MTN/6000
Basic system with power supply monitoring up to 12 channels for inclusion in 19 enclosure.
See the other products
Monitran

vibration monitoring system
... measurement principle, the vibration monitoring system cannot only replace standard monitoring systems, but it also gives the customer the chance to react to faults quickly. ...

vibration monitoring system
VibroGard-M
... effective solution for monitoring the condition of machines such as fans, pumps or compressors. The VibroGard-M modules are combined to form task-specific module sets. * Features o Standard module for all common ...
See the other products
Hofmann Mess- und Auswuchttechnik

vibration monitoring system
100 dB | SV 212
... this special design system can be used for community noise monitoring or airport noise monitoring without any hardware modifications. Both SV 207A and SA 203 are dedicated for outdoor ...

vibration monitoring system
Vibra
structural dynamic monitoring Scientific observation through structural monitoring plays a fundamental role in diagnostics as it represents the essential source when trying to find out the origins of ...

emissions monitoring system
GAA630-M
... based on a dry and extractive approach. The system is designed as a two housing solution. The continuous gas analyzers are engineered to fit in a small footprint IP65 compact cabinet, ...

condition monitoring system
CONiQ®
Condition monitoring for screening machines and vibrating feeders Continuous condition monitoring to protect machine components By continually monitoring the condition ...

contamination monitoring system
7000RMS
... counting or sample preparation requiring stains and reagents. Not anymore. The on-line 7000RMS (Real-time Microbial System) delivers continuous measurement of microbes and inert particles in real time. Higher ...

gas monitoring system
B-DETECTION MOBILE
In addition to continuous stationary monitoring of CO2, CO and O2 in the compressor, this device uses a pressure reducer to allow mobile analysis of breathing air on site. Packaged inside a sturdy plastic­ ...

... CCTV system guarantees extensive and continuous monitoring of safety-relevant areas. Network-based recording ensures that pictures from the cameras may be saved digitally ...

electrostatic charge monitoring system
Extension IQ Easy
The IQ Easy platform with at least one Manager IQ Easy can be extended with the Extension IQ Easy to control an additional 6 devices. The Extension IQ Easy comprises of a Control unit without a display. Status LED's show ...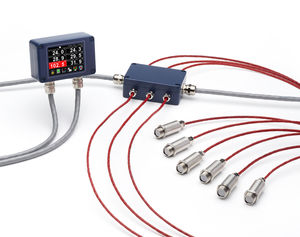 temperature monitoring system
PyroMiniBus
... Calex display units, or directly to third-party Modbus networks such as supervisory control and data acquisition systems (SCADA). The flexible, modular PyroMiniBus system is suitable ...

concentration monitoring system
TIDAS P Pro Clean
... costly. The J&M TIDAS P Pro Clean system is ideal to monitor a CIP-process. This all-in-one solution consists of a spectrometer, a measurement cell, as well as the suitable evaluation software. The measurement ...

residual current monitoring system
A fault current monitoring system for applications where special reliability is required from the power supply. Trafox Superintend® RCM continuously monitors the electric system's ...

temperature monitoring system
Smart-Vue™ Series
... Scientific™ Smart-Vue™ 915MHz Wireless Monitoring Solution Kits (North America). These solutions provide continuous monitoring and reporting of your laboratory equipment with immediate ...

temperature monitoring system
WFM
Enhanced process control designed to improve molded part quality, cycle times and repeatability. Critical control ideal for high tolerance applications across any industry. Available as a standalone solution ...

subsea monitoring system
928
... critical telemetry systems, avoiding the need for special operator training or requiring a system shutdown during measurements. Through continuous monitoring of multiple ...

condition monitoring system
CMC
... allows for continuous particle monitoring on systems where no oil pressure is evident. The CMC can be installed in most low pressure hydraulic and lubrication systems ...

temperature monitoring system
GSS 72
Comprehensive security system, designed and built to ensure the overall operation safety of steam generators, in line with the new CE directive concerning the conduction without supervisor ...
See the other products
ICI Caldaie SpA