The Online Industrial Exhibition


Green Chain The Wood-Mizer Green Chain is designed to move your sawn lumber to its destination at a controlled rate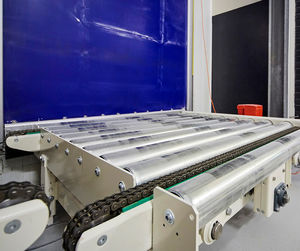 ... widthwise transport to lengthwise transport on rollers, or vice versa. The 90-degree chain transfer can be equipped with a moving roller deck or chain tracks. The perpendicular chain ...

steel transfer chain
T01C25
The 1500 lb. capacity Model T01C25 is a CDLR25 conveyor with integral pneumatic actuated pop-up chain transfer. Transfer chains are kept within the effective width of ...
See the other products
LEWCO, Inc.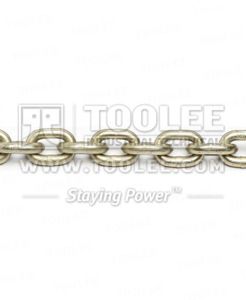 steel conveyor chain
1028 series
... and the exceptional hardness makes it wear resistant. Transport chains made with high quality carbon steel are particularly developed to make it lightweight and yet strong. Chains can be obtained ...

Chain pitch: 38 mm
Friction Top Chain, Product code 833, Pitch 38.1 mm, Material: POM and PP with rubber inserts to prevent sliding, Color: white, blue, grey
See the other products
Cagrı Industry Inc.- Alhan

steel transfer chain
Double Plus series
DOUBLE PLUS Chain is widely used in electric or electronic assembly lines as well as in the auto parts, beverage, and medical equipment industries, where objects are conveyed on pallets. DOUBLE PLUS Chain ...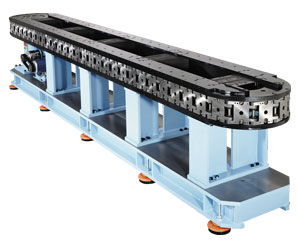 ... system accuracy. The Heavy-Duty Conveyors employ an open backbone design, allowing for convenient passage of tooling, drive shafts, timing chains and hydraulic, pneumatic or electrical lines through the ...

... principle applies to chain conveyor belts, sliding belt conveyors and roller conveyors. We also offer shuffle floor systems and bunker belts. Due to the use of different ...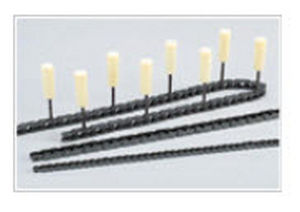 ... specialty chains, which are designed for particular industries and specifications. Over 75 years of experience of serving roller chain products worldwide, DID is one of the most dependable chain ...
See the other products
D.I.D Co., Ltd.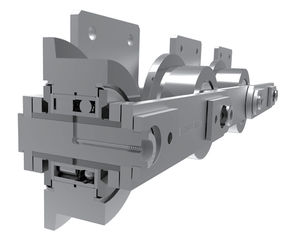 stainless steel conveyor chain
Z series
Chain pitch: 51 mm - 305 mm
Tensile strength: 40 kN - 300 kN
Width: 31 mm - 83 mm
Challenge Group presents conveyor chain. All link plates are produced from high tolerance, on size, cold-drawn steel bars with high carbon. This eliminates all internal strain related to guillotined ...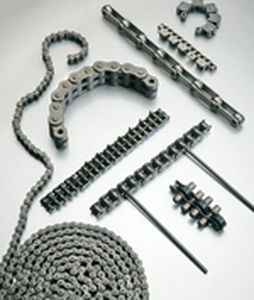 Roller Chains British and American Standard, Side bow chains Fleyer Chains Light conveyor chains Transport Chains Chain ...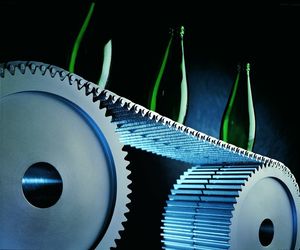 steel conveyor chain
UltraLife™
Chain pitch: 1 in
... component manufacture and chain assembly ensure consistent chain pitch, uniform chain velocity, and uniform wear throughout the life of the chain. UltraLife chain ...
See the other products
Ramsey Products


stainless steel conveyor chain
DIN 8187, DIN 8188, ISO 606
Roller chains are frequently used in machine and plant construction, not only as drive and gear chains, but also as lantern gears, hoisting and conveyor chains as well ...
See the other products
Wippermann jr.

Chain pitch: 1 in - 1 in
... palletised loads with steel chains to be used when the slats of the wooden pallet feet are crosswise to the leading front or for special applications. Available versions with 2, 3, 4 or 5 parallel chains, ...

Temprecord has developed a traceable validated system for transporting temperature critical product at set parameters in order to maintain the integrity of the product on arrival. Optional: Total System or individual components • ...