How to choose this product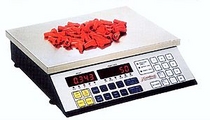 Counting scales determine the total quantity of pieces electronically. A counting scale measures the weight of an individual piece and then divides the total weight by the individual weight to obtain the total number of pieces.
Applications
Counting scales are used in both industrial and commercial applications. Counting scales are used on production lines to determine the total number of pieces being sent to a technician for assembly. Counting scales help in inventorying parts for warehouses and assembly lines. They can provide accurate part counts for electrical components too small and fragile to handle individually.
Technologies
Counting scales include a removable weighing platform which holds the pieces and protects the scales load cell. A counting scale includes an indicator/display providing reference weight, quantity, tare and certain scales with part memory values.
How to choose
When selecting a counting scale make sure to specify the resolution requirements of you application. Be sure to specify the individual weight and total number of pieces to be counted. Manufacturers indicate resolution in "points" (e.g., 60,000 points).