How to choose this product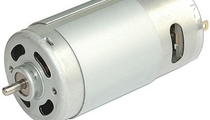 A DC (direct current) motor has two main parts. The fixed element, the stator, generates a magnetic field through the use of permanent magnets or an electric current passing through windings. The rotor is fed by the brush/commutator assembly. DirectIndustry uses the term DC motor to refer to brushed types only.
Technologies
There are two main types of brushed DC motors:
- Separately excited motors use voltage changes to regulate speed, independent of the load. Generally, the constant stator field is created by permanent magnets. Thus, torque depends only on the rotor field, i.e., the current intensity in the windings.

Speed can be varied considerably by adjusting voltage via a resistor or other control mechanism. This motor provides high torque at low power, useful in machine tools or lift devices. At low power, it often is used in control applications with speed adjustment.

- Series-wound motors have their stator and rotor windings connected in series, the same current passing through both. This provides high initial torque. These motors work well at high power (one to 10 MW). Low-power applications include starter motors for internal combustion engines.
Advantages
- High initial torque
- Speed proportional to applied voltage
- Linear current/torque ratio
- Servo use with encoder
Disadvantages
- High maintenance cost and limited life
- Brushes cause dust and sparks
- Limited speed (1000-5000 rpm)
- Noise and inefficiency from friction