How to choose this product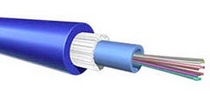 A fiber optic cable can transmit information at very high speed over a very great distance. It comprises one or more optical fibers enveloped in a thermoplastic sheath for mechanical protection.
Applications
The optical fibers in these cables can transmit digital data over long distances unaffected by external factors.
Technologies
Data transmission via fiber optic cable uses a laser beam, offering very little loss over great distances. The core fiber has a higher refractive index than its cladding material, keeping the light within by avoiding multiple reflection (single-mode fiber), thus acting as a wave guide.
How to choose
Fiber optic cables are preferable to electrical cables over long transmission distances or when electromagnetic disturbance in an industrial setting might interfere with the signal. Single-mode fibers are required for high-speed, long-distance transmission, while multi-mode fibers are suitable for low speeds and short distances.
Advantages
- Unaffected by electrical interference
- Little signal loss
- Long-distance transmission capacity
Disadvantages
- Expensive