The Online Industrial Exhibition

Torque: 0.5 Nm - 7 Nm
Rotational speed: 0 rpm - 42,000 rpm
For High Gain High Vibration-Absorption Zero Backlash
See the other products
NBK

Torque: 0.2 Nm - 7.5 Nm
All Reell slip devices provide an in-line constant torque, which increases the life of clutch components by reducing the engagement shock due to inertia. They can also be used for overload protection where component safety is a concern. ...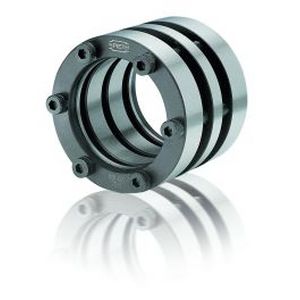 rigid coupling
DSL series
Torque: 36 Nm - 53,500 Nm
The Shaft-hub rigid coupling DSM1 series is manufactured by SPIETH-MASCHINENELEMENTE GmbH & Co KG. The product has compact and durable design. The product is also very easy to utilize and the needed operations have to ...
See the other products
SPIETH-MASCHINENELEMENTE GmbH & Co KG

See the other products
SNT

flexible coupling
CGF1N series
... property and other coupling parts will now be sold under the brand of İNKA under the roof of İNKA in Turkey. Henceforward, İNKA will keep in its stocks grooved and flexible couplings, mechanic T's, reduction ...
See the other products
INKA FIXING SYSTEMS

- Used for the connecting of same sized PE Pipes.

compensating coupling
MKJ-S
Torque: 15 Nm - 500 Nm
MKJ-S is the big brother of MKJ series. The clamping hubs are equipped with two screws. The hubs are manufactured in steel and welded to the metal bellows. The ideal solution for precise and accurate angle connecting two shafts. It can ...
See the other products
HA-CO GmbH

Shrink discs are removable shaft to collar connections. They are used with gear motors of the slip-on type. They are resistant to dirt, have no moving parts and are thus not subject to any wear. They offer the advantage of absolute freedom ...

flexible coupling
GP series
Torque: 0.5 Nm - 0.8 Nm
Rotational speed: 12,000 rpm
The GP series is a flexible encoder coupling developed by Italsensor. It is built wit plastic construction and suitable for incremental and absolute encoders applications. The coupling is also available ...
See the other products
ITALSENSOR SRL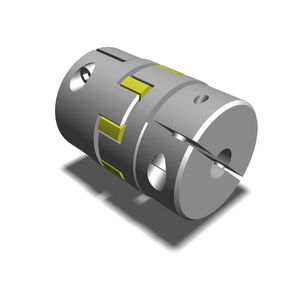 flexible coupling
G-GM series
Torque: 380 Nm
Couplings G-GM Series: G series: max 1250 Nm GM series: max 380 Nm

gear coupling
1500 rpm, -3°C ... +120°C
Torque: 250 Nm - 630,000 Nm
Rotational speed: 460 rpm - 6,000 rpm
The Flexible Coupling: Gear Coupling, manufactured by Zhenjiang Suoda Coupling Co.,Ltd., is a device designed with outer tooth sleeve and inner gear ring of the same number of teeth. ...
See the other products
ZHENJIANG SUODA COUPLING CO.,LTD.

Torque: 0.32 Nm - 44 Nm
... eliminate backlash. Discs and hubs are available in different materials and configurations to suit different applications. These couplings provide generous radial compensation and easy maintenance.
See the other products
Huco Engineering Industries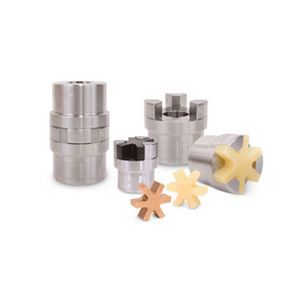 Rotational speed: 50 rpm - 3,450 rpm
... Gear, we manufacture our FC couplings from the highest quality alloy steel - not from powdered metal as many other industrial manufacturers do. Consisting of two metal jaws - or hubs - and an insert, this style of coupling ...
See the other products
Boston Gear

torsionally rigid coupling
CENTADISC-C
Torque: 0 Nm - 45,000 Nm
CENTADISC-C – a torsionally stiff light weight membrane coupling for the application in vessels, ferries and in wind energy applications where weight and alignment are of high importance. Two membranes arranged in series ...
See the other products
CENTA

Torque: 21,000 Nm - 1,500,000 Nm
The steel disk couplings of the construction series Raflex® belong to the torsionally stiff, flexible shaft connections. Like the well-established curved tooth couplings, these power transmission elements ...
See the other products
RENK AG

locking device coupling
REACH01
Torque: 298 Nm - 403,402 Nm
Locking Assemblies, also namely keyless locking devices, power lock, clamping elements;Internal and external locking;Complete structure size, suitable for various structure forms; High transmission precision, gapless transmission, noiseless;Overload ...
See the other products
REACH Machinery CO.,LTD.

Steel Flange and EPDM Body Reinforced with Polyamide Wire Face to Face: Factory Standard Flange: EN1092 PN10/16 Pressure Rating: PN10/16; Size: DN40-DN500 (1.5"-20")

Torque: 300 Nm - 750 Nm
... units. Connection of the operating elements (UBL, LZG, SZG) with ventilation tubes, on the ends of which SKS are welded. Coupling made of steel St. 52-3, unpainted. Mounting: Vent tube + SKS have to be aligned. ...
See the other products
Lock Antriebstechnik GmbH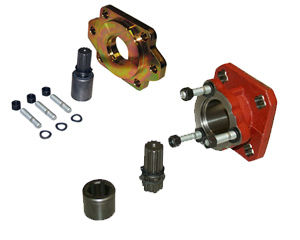 Applications composed by flanges and fittings necessary to couple pumps and PTO's with different standards, such as ISO, SAE, DIN, etc.

coupling for the aerospace industry
Rotational speed: 0 rpm - 80,000 rpm
Product name: Safety couplings We manufacturing couplings for any kind of application, up to 80.000 rpm. We projected many special Safety couplings for aero spatial industry.
See the other products
CAT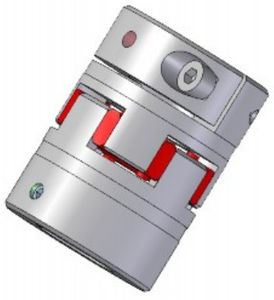 The R/GS is a type of clutch that is specifically being utilized for the connection between the gearbox and the motor.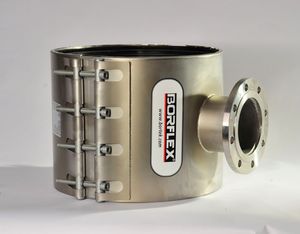 stainless steel coupling
REP-BR
NOMINAL DIAMETER : DN 76,1 mm DN 4000 mm Branşman Ölçüsü DN 15- DN 100 mm USAGE AREAS ​ STEEL GRP HDPE-100 PVC CAST-IRON DUCTILE FONT ​ACP Body: AISI 304 AISI 304 STAINLESS STEEL *AISI 316L AISI 304 STAINLESS STEEL ...
See the other products
BORTEK BORU VE TESISAT TEKNOLOJILERI DIS TIC. LTD. STI.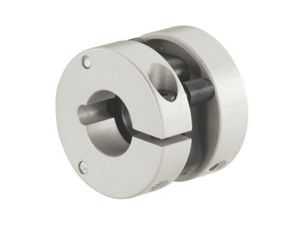 flexible coupling
ID max. 28.5 mm | controlflex series
Torque: 0.3 Nm - 40 Nm
Rotational speed: 7,500 rpm - 25,000 rpm
Controlflex is a precision coupling designed to meet the mechanical and metrological requirements of encoders. Through its unique function element, the compact shaft encoder coupling combines extremely ...
See the other products
SCHMIDT-KUPPLUNG

curved-tooth gear coupling
7000-SS
Torque: 850 Nm - 1,289,000 Nm
Rotational speed: 780 rpm - 8,000 rpm
... of arrangements of curved tooth couplings as follows: Flexible with flange. Rigid-flexible with flange. Flexible with flange and fixed extension. ...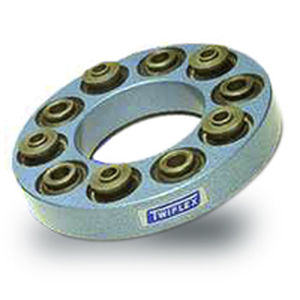 flexible shaft coupling
max. 64 kNm
Torque: 0 Nm - 64,000 Nm
... arrangement of the blocks, thus enabling the coupling to achieve high speed operations. This design can also provide a torsionally soft coupling and can accommodate misalignment. The user can engineer ...
See the other products
TWIFLEX