How to choose this product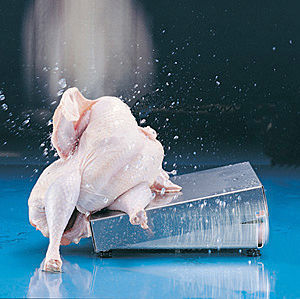 Food scales are used in the food processing industry for accurate weight measurements. They are designed specifically for the fast, accurate weighing required in food processing.
Food scales are used in different food processing applications, including dry foods, meat, fish, fruits and vegetables. Food scales used in commercial applications integrate a price computing device and a label printer.
Food scales are generally constructed of stainless steel to facilitate cleaning and maintenance for hygienic purposes. Their Ingress Protection (IP) rating indicates suitability for certain wash-down procedures. For sanitary, legal and trade certifications, food scales must comply with certain norms, which may include EC approval, OIML (International Organization of Legal Metrology), NTEP (National Type Evaluation Program), NSF, HACCP (Hazard Analysis and Critical Control Point), safety/EMC compliance, UL, CSA and NEMA.
Food scales incorporate different functionalities which can include portioning, percent weighing, moisture determination and specific gravity determination for mixing.