How to choose this product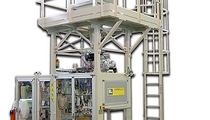 Form, fill and seal (FFS) machines use plastic film, cardboard, and other materials to form packages, which are then filled with a particular product before being sealed and, if necessary, cut into discrete units. The many different types include vertical, horizontal, flow wrapper and stick-pack. Machines can be manual, semi-automatic or fully automatic.
Applications
Such machines are used widely in the automotive, chemical, medical, and pharmaceutical industries. They also are used to process food, beverages, cosmetics, electronics, semiconductors, stationery, tobacco, and military products. FFS machines can handle liquids, granules, powders, and sprays. Packaging varies from blister packs to bottles, jars, cartons, boxes and cans.
Technologies
FFS machines are available with multiple options. The machines can form the package vertically or horizontally. The packages can then be filled either by a controlled free-fall method or via conveying systems. The packages can be sealed using different techniques: glue, heat seals, nails and staples, tape, etc.. They can be sealed in different shapes with three or four seals.
How to choose
Choosing the most appropriate machine can depend on numerous criteria: applications, specifications, features, required throughput speed and degree of operator input.