The Online Industrial Exhibition

The gantry support carries the gasket glueing frame. This gantry support is composed of four columns fixed to the ground by dowels, two crossbeams and a craneway. On this craneway two electrical hoists ...

With I-beam bridge Supplied as standard with: Sides in tubular sections I-beam bridge Vulcolan castors Finished with rust-proofing and two coats of paint Complete with certificate of compliance with CE norms.

sliding gantry crane
ELEKTRO SHAK GANTRY series
Lift capacity: 25, 15 kg
The gantry consists of two parallel bell-driven axes, of which one acts as drive axis (drive X-axis) and the other as driven axis (geared X-axis). Both axes are connected one to the other by means of an anodized aluminium ...

welding gantry crane
PR Series
PR Series are multi-directional gantry type robotic systems which consist of cartesian X, Y and Z axes and 6 axis robot driven with the same controller. They have less metal construction than the GR Series and have 2-way ...

double-girder gantry crane
Lift capacity: 2 t - 30 t
Working height: 2 m - 15 m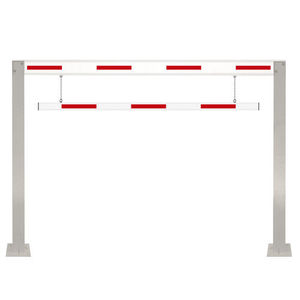 stationary gantry crane
AXESLIM
Working height: 5 m
This barrier provides the ideal solution for limitation of access areas of vans and lorries to areas such as staff car parks or (underground) low-level parkings or commercial centres. Optionally, the height-restriction barrier device ...