The Online Industrial Exhibition

gas leak detector
DeltaMatic™
The Bettis™ DeltaMatic™ linebreak detection system is designed to automatically monitor a gas pipeline and send an instrument pressure signal if a predetermined rate of pressure drop is exceeded. The ...
See the other products
BETTIS

gas leak detector
G300 II
... . This allows a successful detection even in gas contaminated areas. Sniffing around corners The gooseneck – a flexible conduit – can be pushed into close slots and gaps. The flexibility allows to find gas ...
See the other products
GfG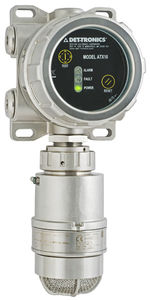 gas leak detector
FlexSonic™ Acoustic Gas Leak Detector
The FlexSonic® Acoustic Gas Leak Detector hears gas leaks that others don't – the instant they occur. It is the first non-contact gas ...

... principle and for the visual inspection method. It is also for pressure tests of pipes of liquid or for tightness tests. The leak test set in sturdy wooden case consists of the test pressure gauge Ø is 63 mm with impact ...
See the other products
AFRISO-EURO-INDEX

gas leak detector
Gassonic Observer-i
Instantly detect pressurized gas leaks with this high-precision, omni-direction acoustic detector. Works even when traditional methods of gas detection are unsuitable ...
See the other products
Mine Safety Appliances Company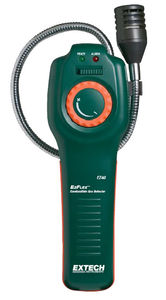 flammable gas leak detector
EZ40
... thumb controlled sensitivity adjustments to eliminate background gas levels * Visible and audible alarm at 10% (LEL) Lower Explosive Limity for methane * Locate the smallest leaks * Complete ...

MKS PICO Helium vacuum leak detectors, weighing under 17 pounds, are the smallest and lightest sniffing-style mass-spectrometer-based leak detectors available in the ...

gas leak detector
1,500 containers/min , 12 VDC
... HMI, and PRO Series Interfaces. Each TapTone User interface is capable of running multiple inspections simultaneously. Other leak, fill level, or vision sensors (model and user interface dependant) can be added with the ...
See the other products
Teledyne TapTone

Ultrasonic detection … As a gas or liquid passes through a small restrictive opening, ultrasonic noise is created. While this noise is imperceptible to the ear it is very easily located by the Leak Detector ...

See the other products
Tecnocontrol - GECA - CPF Industriale

... helium/dry air binary gas mixture. The target end-users are mainly those using helium leak testing machines with additional facilities used to decrease dramatically the overall annual ...

gas leak detector
SLD series
... chlorine gas leak detector. This device is charaterized as a microprocessor controlled instrument capable of detecting chlorine, sulphur dioxide, ammonia, and ozone gases at levels far ...

gas leak detector
MLD-3000H
MLD-3000H is the instrument designed to detect the very small losses of hydrogen (H2) Ideal for detecting leaks of new pipes that do not pass the test, hydraulic or pneumatic, and to detect holes in water ...
See the other products
Gastech instruments srl

Gas leaking alarm for H2 detecting. Range:0-1000ppm
See the other products
USTSensor Technic Co., Ltd

... chloroethyl and detects halogen gases in fire-extinguishing systems. This leak detector also response to oxide gas leaks in hospital sterilizing equipment. The high ...
See the other products
Jiangsu Jingchuang Electronics Co., Ltd.

gas leak detector
Protec® P3000
... Sniffer Leak Detector is specifically designed for full-time sniffing applications in demanding production environments. Features at a Glance Improved system design compensates for operator error ...
See the other products
Eurovacuum B.V.

gas leak detector
M 4510, M 2103 C
... following units can be activated in case of chlorine gas leak : - alarm horn - flashing light - ventilation system - neutralisation system For detection cell see product information for Chlorine gas ...

hydrogen leak detector
HY-ALERTA™ 500
... Handheld Hydrogen Leak Detector H2scan recognizes the importance of detecting and locating hydrogen leaks as quickly as possible. H2scan's HY-ALERTA™ ...
See the other products
H2scan

gas leak detector
POCKET AE™
... laboratory with two-channel capabilities and 1 channel parametric input. Its portability and versatile features make it ideal for leak detection, material and processes characterization, and screening for more detailed ...
See the other products
Physical Acoustics

combustible gas leak detector
TESTBOY 90
The gas detector, Testboy 90, senses combustible, natural gases, e.g. natural and propane gas. Due to the compact design, it is very suitable for use in confined workspaces, e.g. in the ...

... smallest traces of toxic gases. The detection limit is in the low ppb range depending on the substance to be detected. As a leak detector might be exposed to very high concentrations, it must not be used ...

The Mini Gas Leak Detector is suitable for use in checking the leaks from gas chromatograph or gas analyzer. The unit utilizes a micro ...

gas leak detector
GasCheck G
Gas leak detector for rapid, accurate gas leak measurement The GasCheck G gas leak detector represents ...
See the other products
ION Science

gas leak detector
Gas Tracer
Features Monitors ppm, LEL, and % volume methane, O2 and CO PPM leak detector, detects down to 10 ppm CH4 "Leak tracker" audible/visual alarm mode for CH4 and CO 0 to 100% volume ...
See the other products
RKI Instruments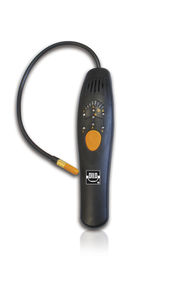 SF6 leak detector
SF6-LeakPointer | 3-033-R002
... very short response time. The device switches automatically to the next higher level of sensitivity for detection of larger leaks. It is possible to switch over the device to the most sensitive measuring range by simply ...
See the other products
DILO Armaturen und Anlagen GmbH