How to choose this product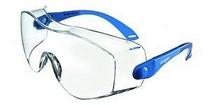 Glasses with side shields are designed to be shock resistant and to protect the eyes from various types of airborne debris. They are made of sturdy plastic.
Applications
Glasses with side shields are used in a variety of settings, mostly industrial or where chemicals are handled.
Technologies
Glasses with side shields are made of plastic and are very sturdy. The front and side lenses usually provide the same degree of protection. These glasses also may be coated to resist scratches and glare.
How to choose
Glasses will be chosen as a function of field and specific application. They are recommended for activities involving exposure to flying debris or splashing. Anti-reflection and scratch-proof coatings also should be considered.

The glasses should display the logo of a recognized certification agency: ANSI (American National Standards Institute), CSA (Canadian Standards Association), CEN (Centre européen des normes), BSI (British Standards Institution) or SA (Standards Australia).
Advantages
- Frontal and lateral protection