How to choose this product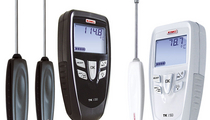 A handheld thermometer is a digital instrument which can be used as needed anywhere in a laboratory or other work setting.
Applications
These devices are employed for field measurements throughout industry, for monitoring and control in chemical plants, in agribusiness and in laboratory work.
Technologies
There are two broad categories of handheld thermometer: contact probe and non-contact infrared. The former usually has a platinum Pt100 or a thermocouple probe. Pt100 models measure in the -200° to 600° C range, while K thermocouple devices can be used up to 1370° C. Pointed probes penetrate a material's surface. Flat models measure surface temperatures. The probe may be an integral part of the apparatus or linked to it by a cord.

An infrared thermometer usually has a laser pointing system and measures infrared surface emissions. There must be unobstructed line of sight between the instrument and the measurement point.

These digital devices offer options such as hold, recording of maximum and minimum values, calculation of averages, alarms, calibration and offset adjustment. They have an RS232 or USB port for downloading recorded data.
How to choose
Choice will depend on precision, resolution and measurement range. Some multichannel models can be equipped with a variety of different probes.