How to choose this product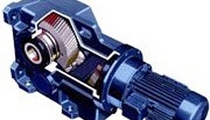 The helical gear motor combines a motor with helical gearing in a pre-assembled, ready-to-use package. While all gearing types (conical, worm, planetary, straight) may have either straight-cut or helical teeth, the term helical gear motor usually refers to straight gearing with helical teeth.
Applications
These gear motors are used in the most demanding circumstances. They can transmit high torque with less wear and noise than straight-cut gears. In addition, the minimal meshing of the teeth results in more consistent power transmission.